Hello lovelies! So me and my cousin was on yet another shopping- bonding time :D, when we came across this Biotique Bio Honey Gel Refreshing Foaming Face Wash. So, without further ado let's dive into the review.
Biotique Bio Honey Gel Refreshing Foaming Face Wash Claims:
This fresh-foaming, 100% soap-free gel is blended with pure honey and extracts from the bark of the Arjun tree, Euphorbia plant and wild Turmeric. Dissolves makeup and impurities, softens skin and helps lighten the complexion.
Cleanses and rejuvenates skin
100% soap-free
Brightens and lightens the complexion
Suitable for all skin types
Organically Pure & preservative free
Dermatologist tested for safety, no animal testing
EVERYTHING YOU NEED TO KNOW
MRP: Rs. 119 (Available online at Flipkart, Jabong, Amazon and Nykaa).
Content: 100 ml.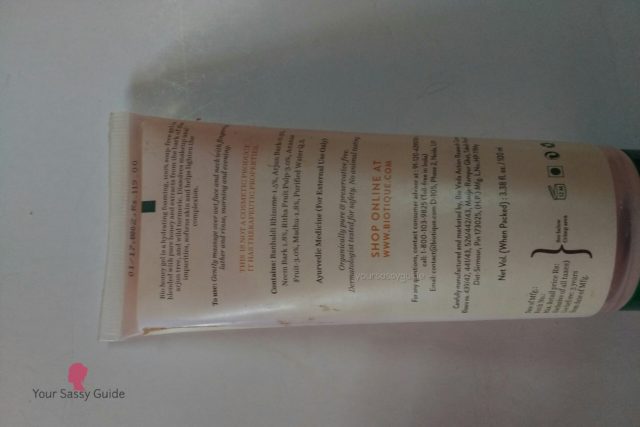 PROS :
Bio Honey Gel face wash comes in an usual transparent tube with all the product details written on top. The cap shuts tightly and is travel friendly.
It has a honey color. Additionally, it has really good smell, a little like honey.
The consistency is quite runny which i feel is no big deal as it makes it easy to apply and lather up.
A small quantity is enough for each use.
Bio Honey Gel face wash leaves my face soft and smooth.
It cleanses really well and is effective in removing dirt, grease etc.
Also, it makes the skin a tad bit fairer when used consistently for a month.
It removes blemishes and closes up the pores slightly.
Surprisingly, it can be a part of your makeup removal process. Yep! It removes makeup really well.
Shelf life : 36 months.
CONS :
No detailed ingredients list. The preservatives and other stuff that is responsible for the gel like formula and the foaming agent is not mentioned. While you can certainly claim the 3% Ritha fruit pulp lathers, it doesn't lather as much as this product does.
It is not 100% natural or organic like it claims! I mean it is hard for a completely ayurvedic product to last for 3 years. So no, it is a false claim.Sorry Biotique, you just went down on my trust meter!
Also, I don't feel it is suitable for all skin types. While it is okayish for dry skins during summer, I would never recommend it during winters. It makes the skin patchy and super dry.
Not recommended for sensitive skin. While it didn't cause any problem for me, my cousin who has a sensitive skin had skin irritation. Her nose corners became black.
119 bucks for 100 ml is a bit costly according to me for a normal good enough face wash like this.
Rating : 3/5.
SUGGESTIONS :
Vary the quantity used according to your skin type with dry skin using up the least quantity and oily skin using a bit more.
Using a good moisturizer is mandatory for dry skinned beauties.
MY PERSONAL EXPERIENCE
I have mixed feelings for this product. While it is a good face wash by normal standards- I mean it does what a standard face wash should do perfectly, the tall ( I mean, the Eiffel Tower tall :P) claims makes me super hesitant to recommend it. My candid opinion about this product is this- it cleanses, brightens and lightens complexion yeah. But I don't think it's 100% soap-free or organic or preservative free. Neither is it suitable for all skin types. So, I'm hesitant to believe the dermatologist tested claim.
Would I recommend it? If you have normal or oily non-sensitive skin and are looking for a good face wash and don't mind the ingredients and stuff, go for it.
Would I buy again? Nope.