If you are a short girl like me then you know all the saree woes that we go through. Choosing a saree that will suit you is a humongous task. And sporting that saree in a great way is whole different world indeed.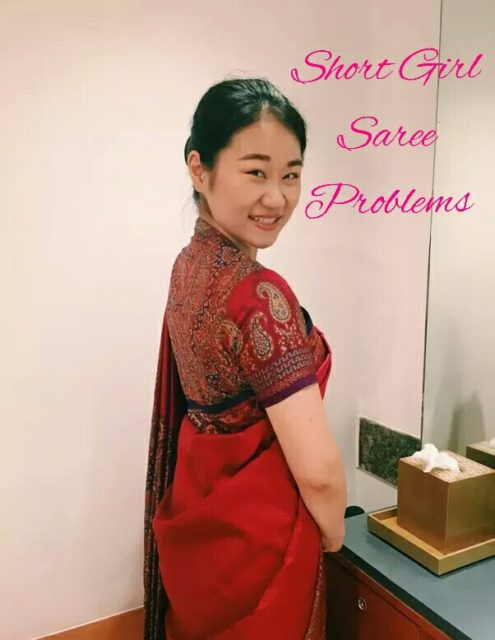 Your Sassy Guide is here to get you through this. We'll discuss everything from the right material to right accessories, colors, tips and tricks that a short girl should keep in mind while choosing and wearing a saree.
Which Saree Material to Choose?
You have various fabrics like Pure Silk Sarees, Art Silk Sarees, Georgette Sarees, Chiffon Sarees, Net Sarees, Super Net Sarees, Cotton Sarees etc.
So, which is the right material for you?
Always go for a light weight material.
I know that Heavy Kanjivaram Silk Saree looks like it's designed for Royal Princess. But heavy saree materials like silk sarees, starched cotton sarees will make you look bulky. Now we don't want that do we?
Instead, choose light materials like chiffon or georgette. Nowadays, lightweight Kanjivaram sarees are available.
If you are on the plump side go for georgette sarees rather than chiffon sarees. It will not bulge but rather settle tightly around your body.
Big Border, Small Border or No Border?
Shy away from big bordered sarees. They'll accentuate your shortness.
If you are slim and short, go for sarees with no border.
YSG TIP :
A plain borderless saree with heavy work blouse (with glitters, shimmers you name it) will make short girls look like a diva.
So, you are a short, curvy girl? Go for sarees with small borders. Your saree border should not exceed 7 cm. 2-3 cm wide saree will make you look slimmer.
Does the COLOR of the saree matter?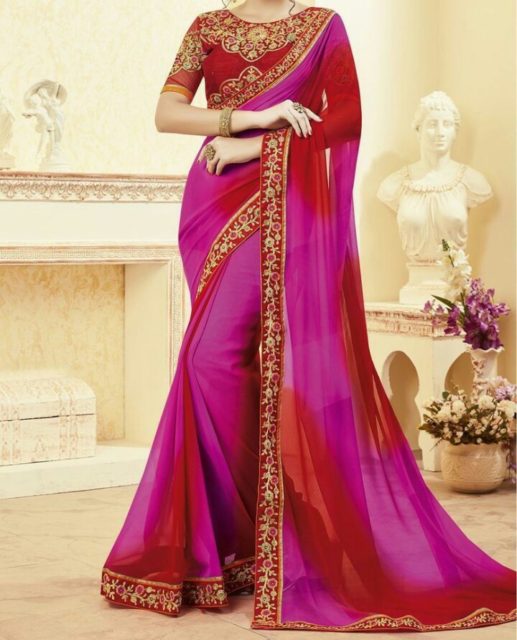 Yes, absolutely.
If you are a short girl on the slimmer side, go for light colors. They will look flattering on you. But you can sport all colors.
If you are on the normal weight side, you'll be able to sport any color.
If you are a curvy beauty like me (ahem ahem), dark colors are your best bet. And hey that doesn't mean you have to shy away from light colours. With right accessories,saree material and those awesome heels you'll look good in them too.
Stripes or No Stripes?
No stripes is good.
Theoretically, vertical stripes is very good. It will make you look slimmer. But personally, I love to sport plain sarees because I still am waiting for a saree with an elegant vertical design.
And horizontal stripes is no good at all. It will make you look bulky.
Half Saree Mantra
Don't go for half sarees. Half sarees with 2-3 colors tend to break your torso and bottom. Prefer monochrome sarees.
If at all you badly want to sport one, choose a half saree with dark colors on the top and bottom or at least having dark colors at the bottom half of the saree.
Choosing the Right Petticoat
Wear slim fit petticoats. I know some people advice to wear slim fit jeans. I find them quite uncomfortable to wear inside a saree. Also, I tend to pin the saree to the petticoat strategically to make the saree look slimmer. Jeans would make it difficult.
The Right Footwear
Saree is awesome because people will never know you are wearing 4 inches heels to make you look taller. Wear wedges or heels. It's your choice.
YSG TIP: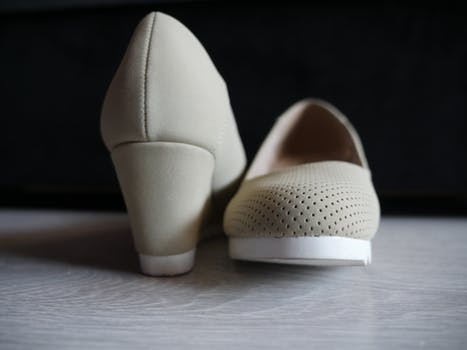 Wear wedges than heels. It doesn't put so much pressure on your feet as heels. And anyways when you saree, your footwear isn't going to be visible most of the times.
If you are a bride-to-be and badly want to wear a Kanjivaram saree for your marriage, give a boost to your height with platform heels.
Fleets or No Fleets
Dear short girl, fleets are your BFF. Stick to her. Take as many thin fleets as possible for your pallu. It will give you a slim appearance.
Saree Prints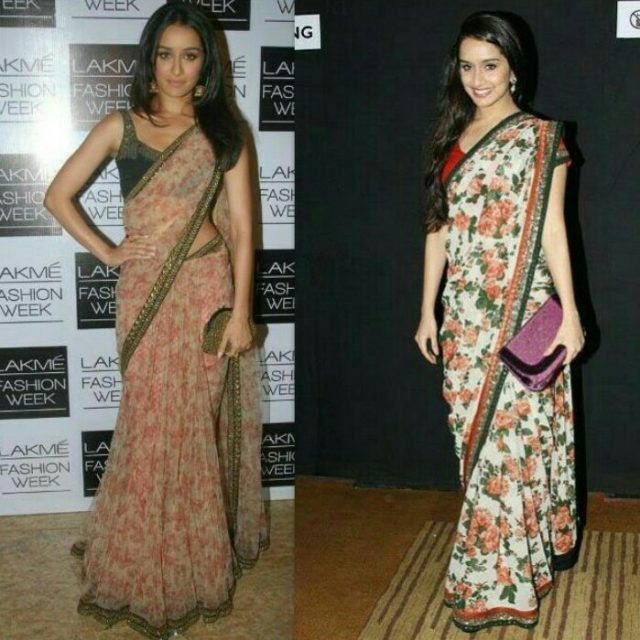 Avoid saree with big prints. It will make you look very short. Plain sarees or saree with small prints is suitable for short girls.
Saree Blouse
Short girls should take an extra effort to make sure their blouse is well fitted and not too long in length or too short. It should end at 1.5 inches below your breasts.
Boat necks, V necks and Square necks will look great on you. Avoid collar necks.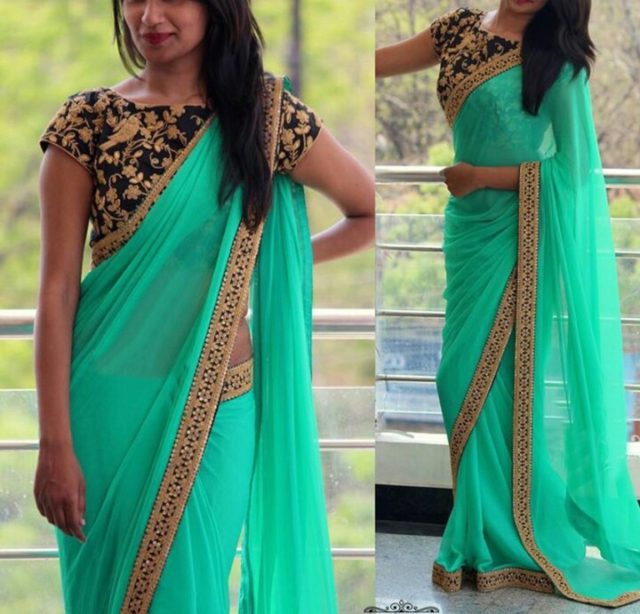 Hairstyle
Don't part your hair when wearing saree. It will a flat appearance and make you look shorter. Short girls should always go for puffs with braids or buns or a high bun that will add to your height. Increasing the height by adding volume to the crown of your head with a low bun is a great look to go with your saree.
Choose the Right Accessories
It is very important for your accessories to complement your saree. As a rule go light on the jewels. Less is more for a short girl.
If you're going to use gold jewelry like a haram set, make sure it's not too big and it doesn't go below your breasts. Or just go for single signature pieces.
Other tips
1. Black is your best friend. Seriously, black sarees add a class of their own.
2. Choose right size pins. Small pins won't be able to handle all thr pulling and tugging. Big pins will look plain bad.
3. Don't wear too much of bangles. It'll make your hands look short and add to your shortness.
Some more Analysis:
The thin border adds for a taller appearance.
But the model's lengthy blouse adds to her shortness.
Nayanthara is 165 cm tall. But she looks taller in this out look because
She adopted for a black saree for a slimmer appearance
The thin border adds height to her look.
She has gone light on the jewellery.
She has added volume to the top part of her head.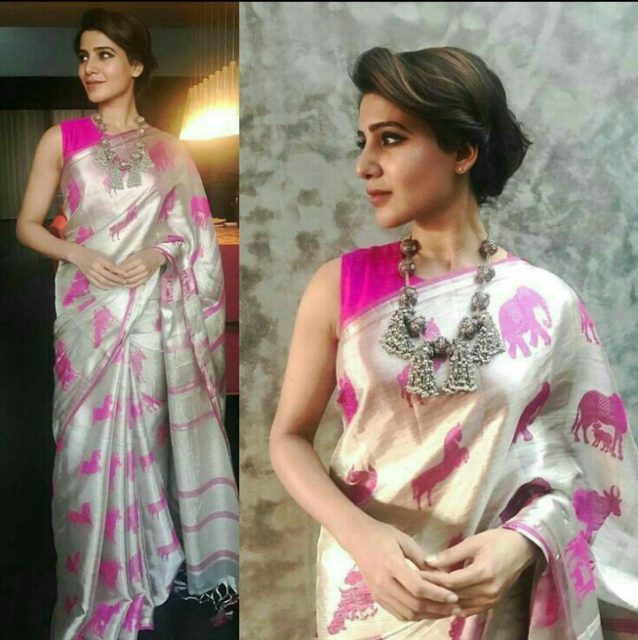 Samantha is taller than Nayan but still she appears shorter.
Her chiffon saree makes her look bulkier.
Big prints on the saree is a no-no too.
But what she has done right is her hair-do.
Her single signature piece looks gorgeous too.