Winter is Coming! Not a motto of House Stark anymore. Winter is here and so are the good ole' winter skin problems like dry skin, white patches, skin irritation etc. Andd your usual moisturisers aren't just doing their job right. Isn't it a sign that you should be switching to something like Nivea Smooth Milk Body Lotion with Shea Butter? Let's see just how good it is for winter.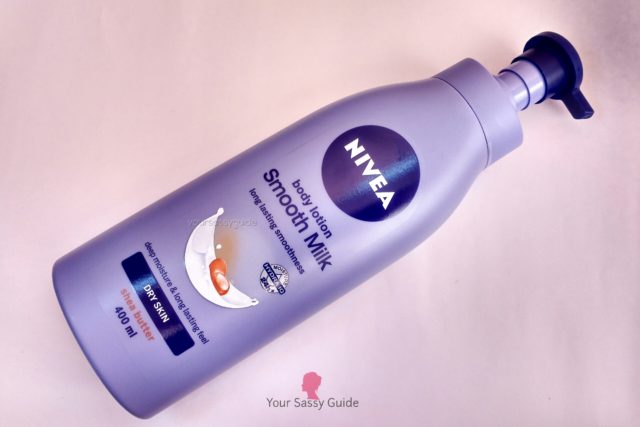 Nivea Smooth Milk Body Lotion Claims:
The new non-greasy softening formula now with double amount of precious Shea Butter, repairs skin dryness to give deep moisturisation & long lasting smoothness.
Apply regularly to experience a smoother and softer skin for days.
The formula with Hydra IQ, reactivates your skin's own moisture network to give 24 hour moisturization with just one use.
Long-lasting softness and protection.
EVERYTHING YOU NEED TO KNOW
MRP: Rs. 360 (Available online at Flipkart, Jabong, Amazon and Nykaa).
Content: 400 ml.
PROS :
Nivea Smooth Milk Body Lotion comes in a indigo blue plastic bottle with a squeeze-out cap. All the product information are available on the bottle itself.
The Smooth Milk lotion is white in colour and has a creamy texture.
It blends like a dream and gets absorbed by the skin quite well.
Also, it proves to be a lightweight product (atleast in winters).
And has a longgg staying power. It lasts for 16+ hours easily.
Smooth Milk lotion has a nice, mild  floral fragrance.
Don't get me started on how well it does it's job. Great moisturization. Definitely a boon for dry skinned beauties.
It makes the skin smooth and soft.
Suitable for dry as well as extremely dry skin.
Additionally, it is travel friendly since the bottle and the cap are super steady.
I feel it is worth every penny.
It is dermatologically tested and is free from colorants and animal-derived ingredients.
Shelf life: 30 months.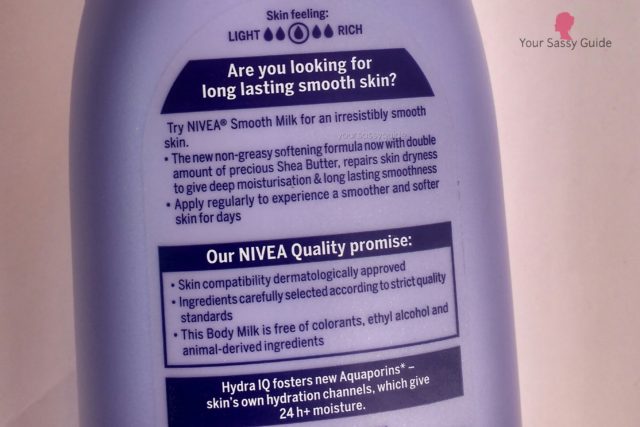 CONS :
It is a bit greasier than Vaseline Cocoa Butter but then it is acceptable because I find Smooth Milk lotion to be more moisturizing and winter-friendly than Cocoa Butter lotion. So yes, you can use this Nivea lotion only during winters. It might turn out to be too heavy and greasy for summers.
It contains parabens and  perfume. 
This product is a strict no-no for oily skin types.
Rating : 4.2/5.
SUGGESTIONS :
I would recommend the sensitive skinned beauties to do a patch test before applying this product.
MY PERSONAL EXPERIENCE
Nivea and Shea Butter means winter magic. Like seriously. This has been and is being my go-to body lotion for this winter. All other lotions I have tried is short of something or the other compared to this one.
Would I recommend it? YASS! Stock up during winters.