Today's review brings an end to the Star Collection Lipsticks review series. I am going to check out Pure Garnet from the L'oreal Pure Reds Star Collection Range. Sonam Kapoor endorses this shade.
Okay to be completely honest, my take on Pure Garnet is like an up and down graph. Read on to know why.
EVERYTHING YOU NEED TO KNOW
MRP: Rs. 995 (Available at Nykaa  and Amazon).
Content: 4.2 gm
Pure Scarleto is a wine red shade.

PROS :
L'oreal Color Riche Lipsticks come in a glossy black tube with a color-coded button. The lipstick is present in a golden tube. The cap is signed by Sonam Kapoor. The packaging looks luxurious and classy.
It had a nice, sweet fragrance like custard.
It is super easy to identify the shades because of the color-coding.
Initially, I was a bit apprehensive of this shade. Come on, doesn't it look too dark to look at? But you know what they say, "looks can be deceiving". It turned out to be an amazing wine red shade.
It turned out to be very different from all other shades that I own and unique in its own way.
This lipstick will look more flattering on wheatish and dark-skinned women.
Pure Garnet gives a matte finish to the lips.
It had such a creamy texture and was perfectly easy to handle.
Pure Garnet does not tug initially at least. It glides pretty smoothly on my lips.
Pure Garnet has the longest staying power among the four shades we have checked out so far. It stays put for 7+ hours.
Also, it semi-survives meals.
It gives an opaque finish in one swipe.
Furthermore, it does not dry out my lips much.
It is a great shade for winter!
And it has a shelf life of 36 months.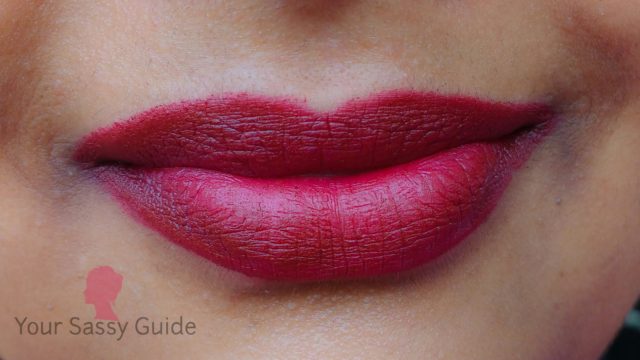 CONS :
After 5-6 uses, the shade remained the same but the texture became kind of hard. It started to tug during application. The application was also patchy.
It highlights the fine lines in my lips.
The tint it leaves is not so great. It is much lighter than I had expected.
It is expensive.
Rating : 3.5/5.
SUGGESTIONS :
This lipstick will look stunning on wheatish and dark-skinned beauties.
It will look kind of over the top for fair-skinned beauties. But don't be shy to include this shade in your Halloween makeup for a dramatic lip finish.
I suggest to give a minimal coating of the lip balm underneath this lipstick to stop the accentuating of fine lines.
MY PERSONAL EXPERIENCE
I was initially hesitant to get this shade as it looked too dark for my taste. But this shade became my most favorite among the four shades I had checked out. So yeah, totally hearting ? this shade. But note that I say favourite shade but not favourite lipstick. Unfortunately, this lipstick has become super drying and patchy on my lips. Such a shame seriously that even with a gorgeous shade such as this, this lipstick failed to score.
Would I recommend this? Not really. Though the shade is fantastic, this lipstick is a major disappointment otherwise.
You can check out Pure Brick , Pure Fire , Pure Scarleto and get a quick look on the Star Collection Lipsticks.