Hiya Peeps! I know you guys might be wondering about the slow updates. Well the thing is, *blush* I'm getting engaged this Feb followed by the wedding in mid-March! *blush* Sooo, kindly excuse my absence. Damn! I feel as if I am writing a leave letter. Anyhoo.. I'm back with an awesome product- LA Girl Pro Face HD Matte Pressed Powder Warm Caramel.
 LA Girl Pro Face HD Matte Pressed Powder Claims:
Long lasting, Oil Controlling powder.
Mattifying finish for a radiant look.
Helps cover blemishes and imperfections.
EVERYTHING YOU NEED TO KNOW
MRP: Rs. 700 (Available online at Flipkart, Jabong, Amazon and Nykaa).
Content: 7 gm or 0.25 oz.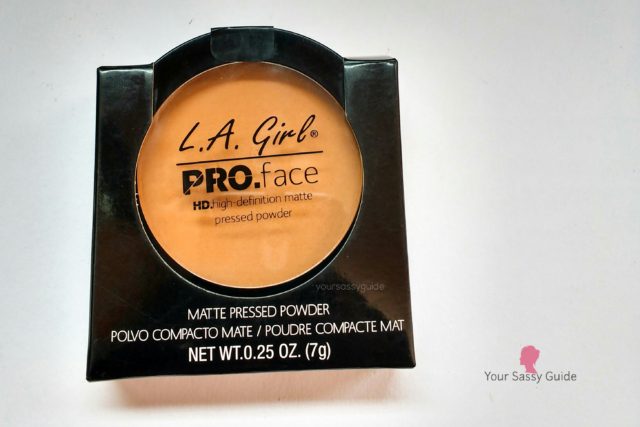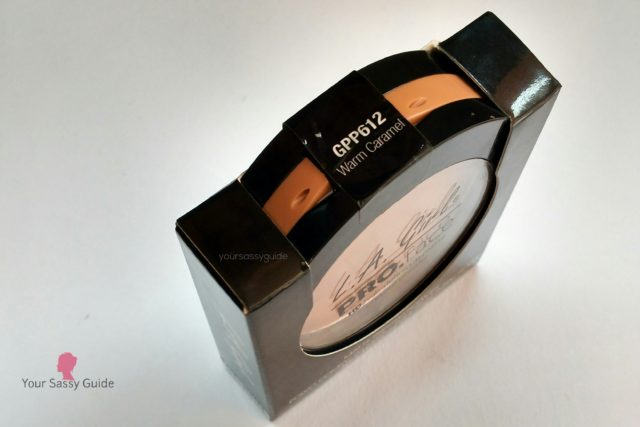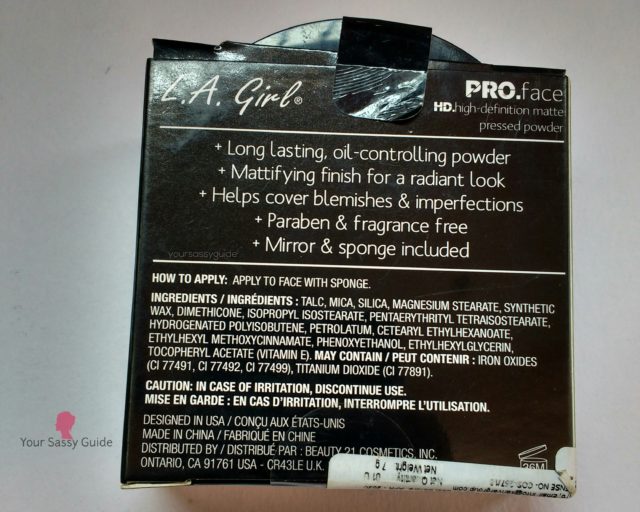 PROS :
LA Girl Pro Face HD Matte Pressed Powder has a sleek and hygienic packaging. It comes in a black and color matched plastic case with two portions- the pressed powder on the top portion and a built-in mirror, a sponge (a good one at that!) with air-holes in the bottom portion for ventilation. This helps in aerating the sponge and prevent bad odour. Talk about thoughtful!

Though it has a powdery texture, it blends like a cream.
The Pro Face HD Matte Powder feels super soft and light on the skin.
Wondering about the LA Girl Pressed Powder shades? It is available in 15 shades suiting fair to dusky skin tones. Now nobody can go about blaming LA Girl for being frugal about the shades choices, can we?
And warm caramel will suit medium to dusky skin tones with yellow undertones perfectly.
Also, it offers an instant matte finish and evens out the skin really well. Yep! Those pesky pores are hidden quite well like at least 60-65% when this product is layered up twice for me.
It doesn't settle in creases.
Also, it offers light to medium coverage. So, bye-bye dark spots :P.
And it stays put on my skin for 6-7 hours but then I have dry skin. For oily skin types, I think it'll last somewhere between 4-5 hours.
Most importantly, it gives off a flawless, smooth look to the skin instantly.
It does not break out my skin.
Suitable for all skin types.
Travel friendly.
Affordable. Yesss! You can get it online from 525 bucks and I think the quality of the product more than makes up for it.
Moreover, it is dermatologist tested, cruelty and paraben free.
Shelf Life: 36 months.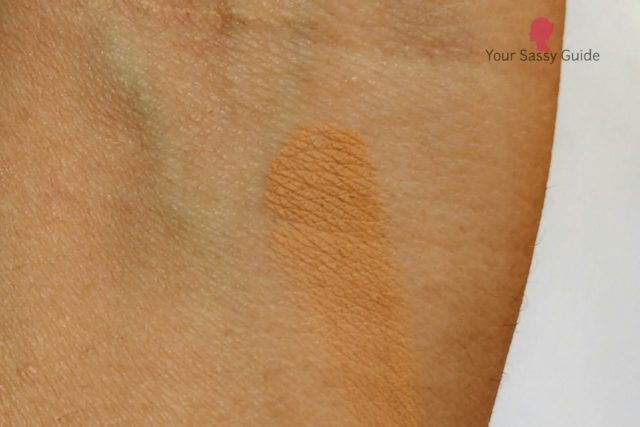 CONS :
Rating : 5/5.
SUGGESTIONS :
Dry Skinned beauties, be sure to moisturize your skin well before using this product.
Finding the shade one shade darker than your skin tone? Worry not. You can use it as contour.
MY PERSONAL EXPERIENCE
This is truly my HG product (okay, who am I kidding? I'll try a new one next time- part of the job description) and is really awesome. Though warm caramel is a shade darker for me, I didn't have the heart to send it back. Yep! I chose the wrong shade (My bad! 😛 :D). Now, I use it for contouring. It's that gooood. Blending it is like a dream come true and the instant soft, smooth finished look is making me swoon over it.
Would I recommend? 100% YSG certified. Go for it.