Hiyaa darlings! I had frizzy, wavy hair that would get all tangled up in no time. Sounds familiar? And I know you curly haired beauties, especially, can relate to it too! After lots of research, jitters about hair loss, I took the ultimate step and decided on a semi-permanent solution. I went for hair smoothening. There's a huge confusion going on about hair smoothening and hair straightening. Are they the same? If not, how are they different? What are the side effects of hair smoothening etc. Well, you'll find answers to all that and also about my own experience with hair smoothening. And all the deets on why I chose this rather than straightening, the process, its do's and don'ts and my 4 month journey with it is all covered in this post.
Permanent Hair Straightening (Japanese Hair Straightening)
Japanese hair straightening changes the internal bond of hair. Imagine your curly hair as a spiral staircase. Well, hair straightening breaks down this spiral staircase into a straight one. The chemicals used permanently break the bonds in your hair, then heat is applied to restructure it. Finally, more chemicals seal the newly formed bonds. The current hair becomes straight. And it is permanent. But the new hair that grows will have your original hair structure. If you have underlying issues like dry hair or hair fall, choose a good quality hair growth oil.
Other Names: Japanese Straightening, Thermal Reconditioning, Thermal Restructuring, Ionic Retexturization, Straight Perm and Japanese Straight Perm, Hair Rebonding, Japanese thermal straightening, Restructuring Treatment and Yuko Hair Straightening.
Pros:
Japanese Straightening is more efficient (than smoothening) with thick, curly hair and previously untreated hair.
It is permanent. Newly grown hair can be touched up to become straight.
Cons:
Lots of chemicals used. So, hair gets damaged to an extent.
This treatment is not recommended if the hair is too damaged or prone to hair loss. Your salon should make sure if your hair is suitable for this treatment before beginning the process.
YOU NEED TO TOUCH UP NEWLY GROWN hair every few months else the top part (the newly grown hair) will look curly or wavy (depending on your natural hair type) and the lower part will look pin straight. Awkward :/
A bit costlier than hair smoothening.
Hair doesn't look natural. It is too straight.
Hair Smoothening (Brazilian Straightening)
Hair Smoothening does not change the internal structure of hair. It only adds a coating of keratin onto the hair shaft followed by a hot flat iron. This, in turn, smooths out the cuticle and repairs hair damage reducing frizz and  leaving the hair silky, smooth and straight. 
Other Names: Brazilian Blowout, Brazilian Keratin treatment or Keratin complex treatment.
Pros:
Hair Smoothening is safer than straightening because lesser chemicals are used. The internal bonds of the hair are left intact.
Most importantly, it is suitable for all hair types. It doesn't matter if the hair is damaged or if you have had your hair previously chemically treated like colored ,permed, straightened, bleached or highlighted.
A bit cheaper than hair straightening.
Hair looks natural like a soft breeze is always going through your hair ( a bit like heroine effect :P).
I feel it is kind of perfect for wavy haired beauties because when new hair grows back, it wouldn't look awkward. The need for regular touch-up is significantly reduced. 
Cons:
Results last for 3-6 months depending on your hair type, the products used, how experienced your stylist is and the aftercare. So, yeah. The results are temporary 🙁
 It doesn't work much on straightening curly hair though it will tame away the frizz.
My Experience:
The Salon and The Product
I selected White Wingz in Anna Nagar, Chennai after a lot of research to smoothen my hair. They gave me three options for the products used in the process- Matrix, LO'real or Wella. I chose LO'real because though costly, the result lasts longer usually.
Hair Smoothening Process:
The first step was hair analysis. They asked me about my regular hair care routine, past history with chemical treatments like hair coloring, straightening etc.. They brought a huge magnifying glass to see the structure, strength and elasticity of my hair strand. Then their Salon Expert examined my hair. Genetics didn't favor me there 😛 It was frizz ridden. So, they recommended a Keratin Hair Mask before the actual hair smoothening treatment for better results. I thought okay why not? Got to pay for my negligence.?
They thoroughly shampooed my hair to remove dirt and build-up. Then they blow-dried and applied a keratin hair mask solution followed by a nice massage. Oh man! My fav part. I happily drifted off to sleep. After 30 min or so, they washed, towel dried and blow-dried my hair.
Afterwards, they gave mask to cover my nose and mouth. The salon expert proceeded to section my hair and apply the keratin-based solution to each section. They kept them separate using aluminium foil I guess. I was asked to keep my eyes closed during the whole process. Playing peekaboo only made my eyes water??. Then they wrapped up the whole thing in a plastic sheet. I guess they do it to keep the solution from dripping down as well as keep the gases emitted inside the sheet. After three and a half hours, I finally opened my eyes. They removed everything, gave the hair a rinse, towel-dried and blow-dried it. They straightened the hair using a flat iron and styled it. Tada! Silky smooth, shiny, straight hair. The fruit of my patience for  4 hours!
The COST
My hair almost reached my waist and I had chosen LO'real products.  So, it cost me Rs.6500 for Hair Smoothening and Rs.1500 for Hair Mask. Whereas Matrix products costs Rs.5000 for smoothening.
TIME and Safety Precautions 
Being my first time, I had to wait for 3 and 1/2 hour (30 min extra) for the reaction to complete. And it took 30 minutes to section and apply the solution to my hair. So yeah, if you are going to smoothen your hair, especially for the first time, allot 4-6 hours of your time. It depends on the type and length of your hair also . 
Since it emits gases, this process is not recommended while pregnant.
After Care Process: 
Keep the hair just the way it is, without clipping or tying, for 24 hours. Not 3 days like the olden days. 😛 Do not tuck the hair behind the ears (this was so hard). 
Do hair wash only after 2 days with normal temperature water. Only then can you braid or put on a pony tail.
Hair oil can be applied only after 15 days.
I was advised to use sulphate-free shampoo and conditioner or masque. The stylist recommended L'Oreal Paris Professional Liss Unlimited Smoothing Shampoo, L'Oreal Paris Professional Liss Unlimited Masque and Matrix Opti-Black Serum.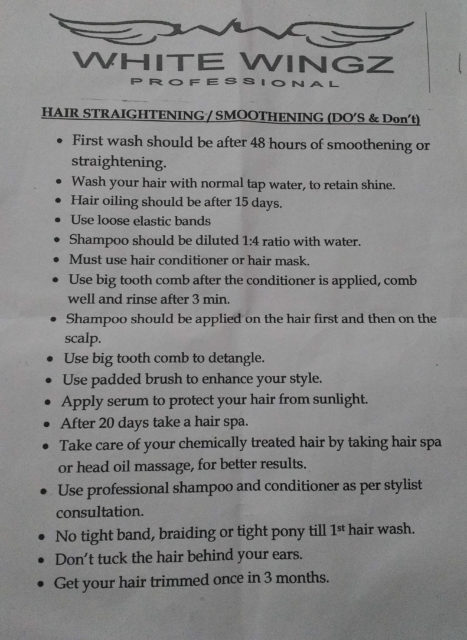 How long did it last?
Keratin treatment usually lasts for about 3-4 months. For me, it lasted for 4 months. The time span largely depends on the after care you shower on your hair.
Observations during & after 4 months
Yes, my hair was easier to maintain. I didn't have tangles anymore but maintaining the smoothened hair requires a lot of care I kid you not! You MUST NEVER let your hair go dry. Serum should be applied at regular intervals. Always go out in the sun with the hair protected to keep it damage-free. 
Honestly speaking, I didn't and couldn't follow this 40% of the time. In those times, my hair got split ends, hair fall, itchy scalp and dandruff. After this, I had to literally nurse my hair back to health.  
In conclusion, no matter the treatment, you have to constantly maintain your hair, keep it hydrated and moisturised. Otherwise, it will easily become dry and frizzy. It'll start breaking more and cause dullness. So, go for any hair treatment only if you can do a decent work of the aftercare.