Concealer is a must have in your makeup kit if you are prone to sleepless nights or simply if you have dark circles. But unfortunately it's hard to find a good concealer under 1000 bucks. Maybelline Newyork Fit Me Concealer is a true savior as it is easy on the pocket.
Claims:
It's makeup that doesn't mess with you.
No oils, no waxes, no-nonsense
Natural coverage that leaves skin the way it was meant to be…fresh, breathing, natural
Exclusive translucent base and lightweight pigments allow skin's natural highs and lows to show through
Non-comedogenic, dermatologist-tested, ophthalmologist-tested, fragrance-free
Let's check it out.
EVERYTHING YOU NEED TO KNOW
MRP: Rs.500 (available online at Amazon, Nykaa, Jabong and Flipkart).
Content: 6.8 ml.
PROS :
The packaging is sleek and nice. It comes in a transparent rectangular tube with a black screw on cap.
Fit Me Concealer comes with a doe foot applicator that makes it easy to pick up and apply the product.
It has a creamy texture. The consistency is perfect not runny like you would expect a liquid concealer to be.
The shade 25 Medium is a light shade with pink undertones.
It blends really well.
Also, it is a great product for beginners.
Furthermore, it does not crease if I stop with a single layer.
And it doesn't highlight fine lines.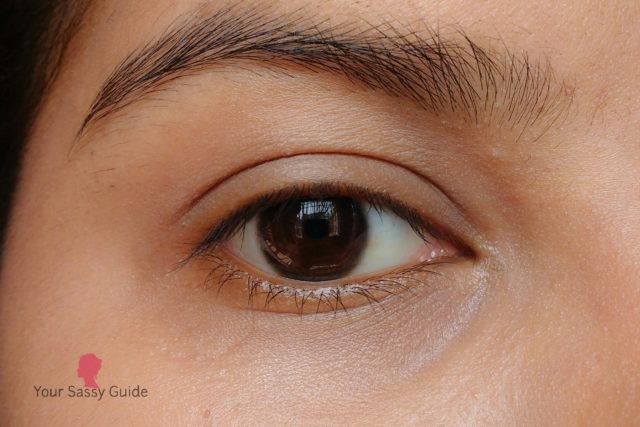 A little product is enough to hide dark circles.
This Fit Me Concealer doesn't have any oils or waxes.
It provides natural coverage that leaves skin fresh, breathing and natural as it claims.
Also, it doesn't feel heavy on my eyes.
Yep, it covers the dark circles and gives a normal appearance to your eyes.
It stays for 5-6 hours on me.
Furthermore, it works great on light dark circles like the reddish dark circles but can't say the same for deeper dark circles.
And it is amazing as a highlighter.
It gives a translucent base and has lightweight pigments as it claims.
Fit Me Concealer is non-comedogenic, dermatologist-tested, ophthalmologist-tested.
It is fragrance-free.
Additionally, it is affordable. This is the cheapest concealer with good quality you'll find out there.
It is travel friendly.
CONS :
It doesn't have any outer packaging and expiry date, manufacturing date etc. is given on the sticker. But the thing is the sticker is pasted half on the cap and half on the tube. So, basically it is not possible to open the product without tearing the sticker and I don't want to lose the product details. Maybelline, not cool. I expect much more from you.
It creases if I apply 2-3 coats. Also, fine lines are highlighted.
It does not work on dark blackish dark circles. It looks chalky and gives an ashy look.
The biggest con of this product is shade limitation. With just 3 shades, you are not left with much choice.
I chose the darkest shade but yet I feel it is light for me.
Medium skinned and dusky beauties unfortunately cannot use this product.
Rating : 4/5.
SUGGESTIONS :
If you have deeper dark circles and this product looks chalky on you, use a corrector before using this. Else, you can dab on compact powder in the same shade as your skin on top of it.
But my advice is steer clear of this product if you have deep dark circles.
It works well as a highlighter.
MY PERSONAL EXPERIENCE
I have wheatish skin. I heard that Fit Me Concealer is too light. So, I chose the darkest shade 25 Medium. It was pleasantly good for its price. I had pretty bad dark circles from sleepless nights then and when I applied this product, it looked super ashy. I was disappointed. But then I used it again when I had reddish dark circles and bam! It worked beautifully. That's when I realized its a concealer with pink undertones unlike Maybelline's foundation range. So, never confuse between their foundation and concealer shades.
Would I recommend it? Yes, this is the best budget concealer that performs decently at this price.