Maybelline calls for all those people tired of the same old black kajal with their colored kohls, now available in 4 shades.
Crushed Emerald – forest green color.
Jewelled  Jade – teal color.
Smoked Silver – burnt silver color .
Turquoise – light blueish color.
Now that we have checked out Crushed Emerald in detail, we will be checking out Jewelled Jade and Smoked Silver today.
EVERYTHING YOU NEED TO KNOW
Content : 0.35 gram.
MRP : 249 rupees only (Available at Nykaa  , Jabong and Amazon).
Pros:
Maybelline Newyork Colossal kohls come in  yellow twister tubes with a color-coded band at the bottom of the tube. The tubes are definite eye-catching with their bright and cute look.
They have decent pigmentation too. I find Jewelled Jade is more pigmented than Smoked Silver.
The staying power is really good.
Both the shades stay on for 6-7 hours without smudging on my lids.
Waterproof.
Smudge proof.
Maybelline kohls fall into the affordable category.
It doesn't irritate eyes.
Travel friendly.
A definite refreshing change from the usual boring Black Kajal.
It has a shelf life of 24 months.
The Jewelled Jade shade has a buttery soft texture, it does not tug during application. One swipe and you are good to go.
Cons:
As far as Smoked Silver is concerned, the texture could have been smoother to apply. It tugs a little and the kohl also breaks sometimes. However, I didn't experience such problems with Jewelled Jade.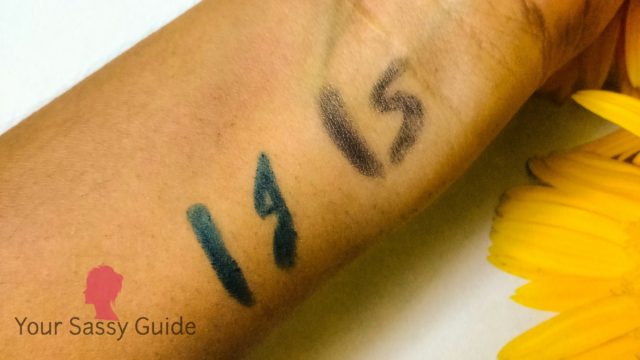 Smoked Silver lacks good pigmentation. It has to be applied 2-3 times to get the perfect shade.
Ingredients list is not mentioned.
Some people might find it quite unhygienic since it's a twister type kohl rather than a pencil model which can be sharpened.
Suggestions :
Play around and have fun with the colored kohls. Apply Smoked Silver on the upper lash line and Jewelled Jade on the lower lash line to pop out your eyes.
Brown and dark eyes beauties can use this kohl without second thought. It'll definitely suit you.
Smoked Silver Rating: 3.9/5.
Jewelled Jade Rating : 4.5/5.
MY PERSONAL EXPERIENCE
I had my reservations when I first started using Crushed Emerald (the very first colored eyeliner I had bought) since none of my cousins or friends use them but after I bought these two shades, I had so much fun playing around with these kohls. Your eyes will look super gorgeous when different colors pops up around them?. And if you are blessed with brown eyes, you can carry off all these colours with ease. It will look amazing on you. So, I guess that puts most Indian women in this list.
Would I recommend it? Yep, totally. Though Smoked Silver is quite a gamble, Jewelled Jade is a must have kohl.