Isn't it every girl's dream to work a liquid lipstick to perfection? What wouldn't we do to achieve that perfect pouty matte finish that only a liquid lipstick can give you. So I'll be lying if I say I was without expectations while buying Colour Pop Ultra Matte Liquid Lipstick in the shade Notion.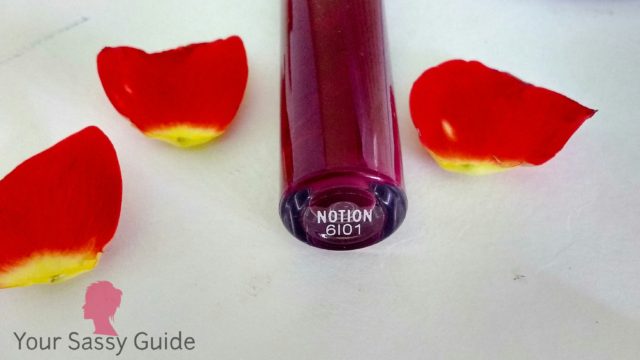 EVERYTHING YOU NEED TO KNOW
MRP: Rs.979 or USD 6. (Available only on Amazon in India)
Content: 3.2 gm
It is a deep berry shade with warm undertones.
PROS :
Colour Pop liner comes in a transparent plastic body with the shade name written in the bottom. It is quite sturdy and so travel friendly.
The consistency is just right. Neither too thick nor too runny.
It is super dooper pigmented. One swipe gives off such a rich colour pay off.
It dries quickly. While it is a plus if you are a pro, it works against you if you are a beginner.
It has a long staying power. It stays put for 9+ hours.
It is smudgeproof. Unless and until you rub too hard, it is not coming off you.
It doesn't transfer.
It is waterproof.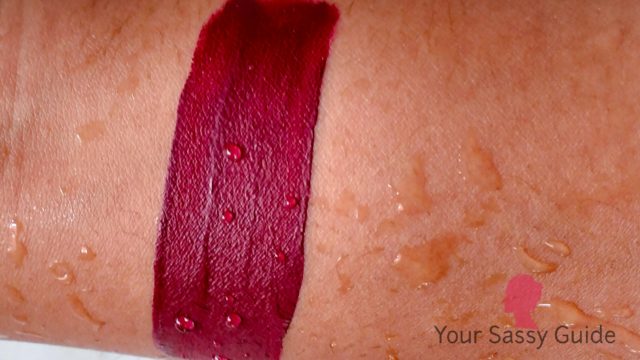 It survives a meal.
It doesn't smell.
I honestly don't know if to put it under pro or con. It looks good in photos. Like perfect. But in person out of the photos, it looks bad. Real bad because it is too dark and looks patchy-lighter at one spot, very dark in another.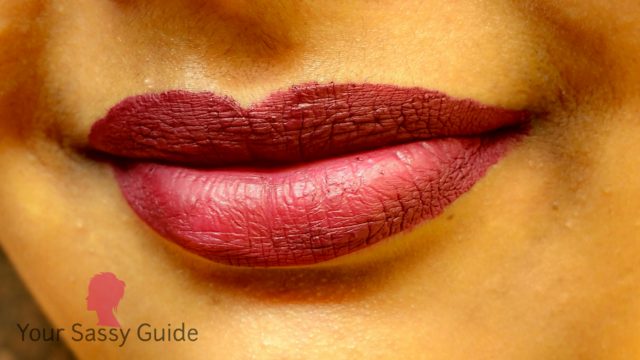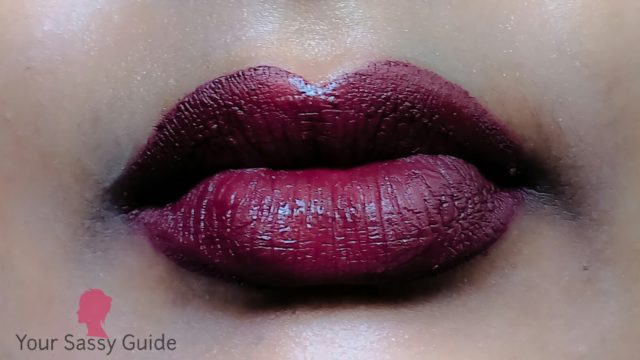 CONS :
The packaging is nothing great. Just a transparent plastic tube with silver cap and the name printed on top which scrubs quite easily.
The doe foot applicator picks up a lot of product. Always more than you require.
I don't like its formula. It makes the lips crack and dry. As a result your lips will end of looking like a dried raisin.
Notion looks amazing while wet but once it dries, it settles in patches.
Colour Pop accentuates and highlights every fine line in the lips.
Though the color shown in the body is good, the actual color pay-off when applied on lips is too dark  for my taste.
I could feel that I have something on my lips.
It is rather difficult to remove.
It is very difficult to work with but aren't all dark shades are.
Rating : 2.5/5.
SUGGESTIONS :
It is necessary to exfoliate and apply lip balm before applying this. But remember that more likely than not your matte finish will be lost
A technique that really worked for me to lower the super highlighted fine lines is olive oil. I applied olive oil on my lips before application and dabbed a little on my lips after application.
MY PERSONAL EXPERIENCE
This lipstick is a huge disappoint for me. I have never tried to work a lipstick like I did for this one but yet it failed me. With one of the most drying formula, it demands the use of lip balm which kind of takes off the whole Ultra Matte claim. Because the amount of lip balm takes off the matte look. Rather use olive oil. I have tried using it and worked much better than lip balm.  I even substituted the applicator with my brush and it helped in preventing the patchiness.
Would I recommend it? Absolutely not. This is a bad color with an equally bad formula. Total waste of money if you ask me.