Hi ladies, hope you all are safe.. Most of you will be familiar with the fast fashion brand H&M. I picked up their All-day Liquid Foundation Flawless Finish, not only because it was cheap but also because it looked so cute.
H&M All-day Liquid Foundation Claims:
A liquid foundation with a comfortable formula offering easy application and a flawless finish. Provides buildable, medium to full coverage with great staying power that keeps you fresh-faced throughout the day. Suitable for all skin types. Recommended for blurring, uneven skin tone, dullness and dark circles.
EVERYTHING YOU NEED TO KNOW
MRP: S$ 9.90 
Content: 30 ml
PROS :
All-day Liquid Foundation has plastic packaging that looks smooth and posh. The pump applicator is good and pumps out the needed product depending on how hard I press it.

The texture is quite thick and blends okayish when I used the tips of my finger. 

It offers light- medium coverage.

Upon proper application, it did give a good, smooth finish.
Recommended for medium-light skin tone.
It stayed on for 5-6 hours.
Affordable.
The packaging is sturdy and travel friendly. There is absolutely no spillage as long as the cap is in place.
CONS :
There are 9 shades available. But I have to say, not great options for dark skinned beauties.
Suitable only for normal skin types. It's not suitable for any other skin types especially dry skinned beauties.
The product is not easy to build upon. It will be apt for a natural finish everyday look than party makeup.
Also, it looks streaky when I try to build upon using my fingertips. Use a damp sponge if you want to build coverage.
Most importantly, moisturization is absolutely necessary. Otherwise, it settles into wrinkles and dry spots.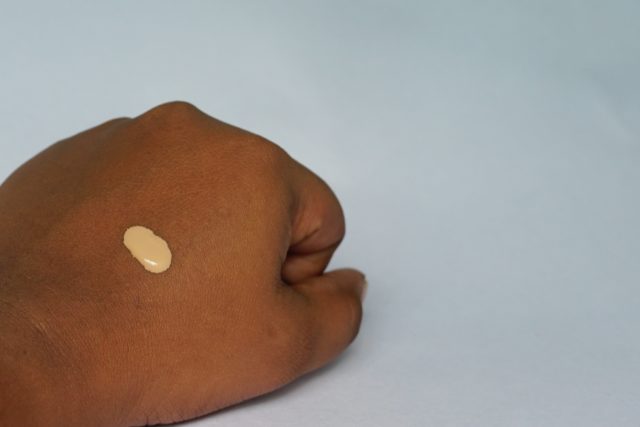 Rating : 2/5.
MY PERSONAL EXPERIENCE
It fails to live upto almost all of its claims. Not recommended.