Yolo, my awesome ladies! I know you are all multi tasking gurus! But one thing we struggle with while travelling is removing our nail polish. The whole hassle of using cotton swabs and all has made me to think twice about using different shades of nail polish every couple of days. YLG Nails 365 Magic Dip Nail Enamel Remover promises to be the perfect solution to that problem. Or is it?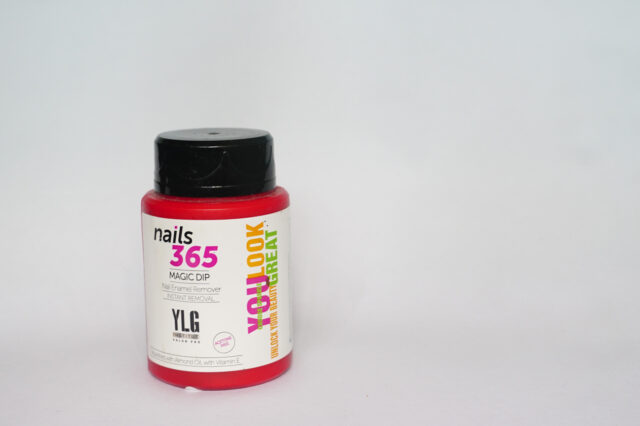 YLG Nails 365 Magic Dip Nail Enamel Remover Claims:
YLG Magic Dip is your quick fix to decorate and protect your nails.
Removes nail paint in seconds.
Easy to Use & Easy to Carry.
Acetone free.
Nourished with Almond Oil
With Vitamin E.
EVERYTHING YOU NEED TO KNOW
MRP: Rs. 299 (Available online at Flipkart, Jabong, Amazon and Nykaa).
Content: 60 ml
PROS :
I like the packaging. It's simple and travel friendly. It comes in a normal red colored plastic container with a label with all the details.
It is transparent in color.
Magic Dip is great at removing non-glittery nail polish in a jiffy. It takes a tad bit more time with glittery nail polishes but that's okay. It happens with normal nail polish removers too.
Most importantly, it is so easy and convenient to use. Like really guys!
I have used it 30- 35 times. Keep in mind I mostly use non- glittery nail polish.
Shelf life: 30 months
CONS :
Honestly, it is not that effective in removing the nail polish in the corner of the nails. Need to twist and turn the fingers quite a lot to get it off completely.
Also, I feel it is bit expensive for a nail polish remover. There are plenty of nail polish remover brands like Lakme which cost less than 100 bucks but still does a good job.
The smell is a bit strong but after a couple of uses one gets used to it.
Rating : 3.9/5.
SUGGESTIONS :
Once the product gets dry, just fill it up with a normal nail polish remover. You can have the same convenience as this product with half the price.
MY PERSONAL EXPERIENCE
YLG Magic Dip is a pretty good product if you are in a hurry. Honestly, I can't say if it is enriched with Vit E, almond oil etc. I didn't see any huge difference in my nail health while using it. I love the fact that I could reuse it 😛 But would I purchase it again? Probably not.