So you all know how I was on the lookout for a Holy Grail shampoo. I found it at last! I'm pretty sure most of you wouldn't have heard of this brand but it is really awesome. WOW Organics Miracle 10 in 1 Shampoo is my HG product and I am pretty sure you'll all love it too.
WOW Organics Miracle 10 in 1 Shampoo claims to be natural and a totally safe formulation that contains pure and certified organic Rosemary and Tea Tree essential oils. It also claims to have a unique blend of natural conditioners useful for healthy hair.
Let's check it out.
EVERYTHING YOU NEED TO KNOW
MRP: Rs.499 ( but it is available on discount at just Rs.316 at Nykaa)
PROS :
WOW Organics Shampoo comes in a brown semi-transparent plastic bottle with a squeeze top. An easy to use packaging.
I prefer squeezable bottles than flip-open caps in shampoos.
The semi-transparent packaging makes it easier to look at how much product is left.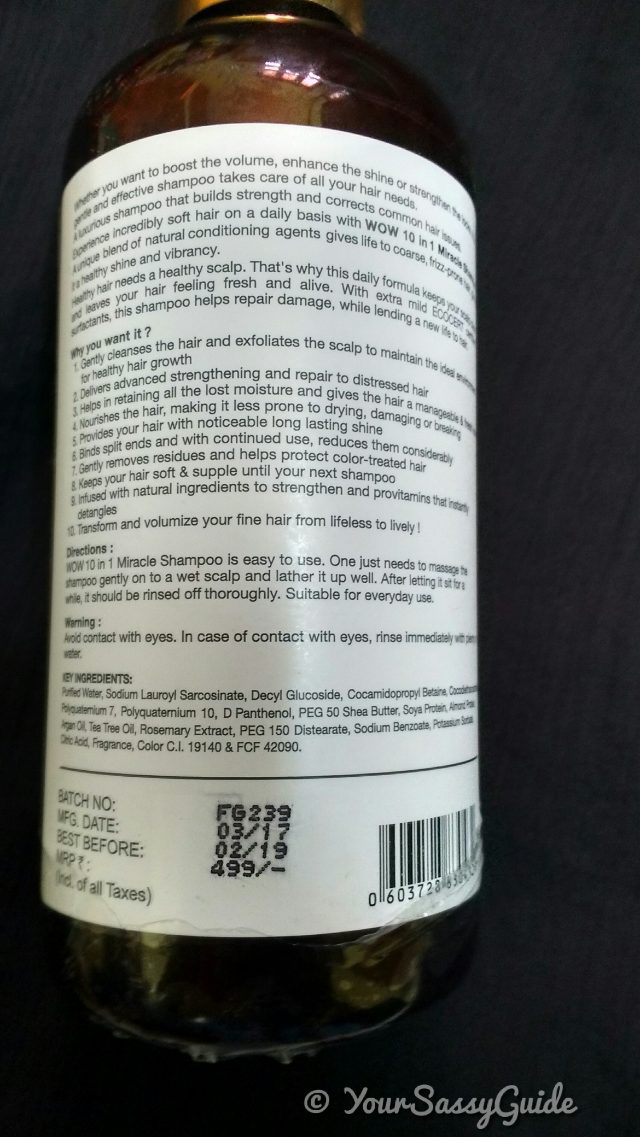 It doesn't have any outer packaging. So all the details are provided on the bottle's sticker.
WOW Organics Shampoo's bottle is semi-transparent with a slightly gel like consistency. It has the right consistency without being runny.
I love this shampoo because it never strips away the moisture from my hair even if I get carried away and use a little too much.
It hydrates my hair and moisturises it quite well.
A little quantity is enough to clean the scalp effectively.
I heart this mainly because it balances between cleaning the scalp yet without striping away the moisture from my scalp.
It maintains the pH of the scalp well and thus controls dandruff.
I didn't experience any dandruff breakouts after using this Miracle shampoo.
My hair looks natural and shiny after hair wash.
It controls my frizzy hair and tames it quite well.
In addition, it has reduced my hair fall really well.
It is great for everyday use.
Furthermore, it'll suit all hair types. But on the days I oil my hair, I require a little bit more of this shampoo to clean the oily scalp properly.
It is 100% vegan.
And it is free of parabens and sulphur.
It doesn't lather. Though it takes some trial and error to get the right quantity of shampoo for your hair, I feel it is well worth it because no lather proves that it is free of sodium laureth sulphate.
The bottle lasts quite long. It lasts atleast 3 months for me.
Shelf Life : 24 months.
CONS :
It is not travel friendly.
It is a bit costly but I feel it is worth it because I have tried professional shampoos and branded shampoos like L'oreal Paris, TREsemme', Garnier Fructis, Sunsilk, dove etc. but I have never experienced good results like from this shampoo. Plus you can always get it at great discounts from Nykaa, Jabong or Amazon.
I suggest using some other shampoo on the days you oil your hair. Hair is quite oily even after hair wash.
Rating : 5/5.
SUGGESTIONS :
Do not take too much of the shampoo because it doesn't lather. 5-10 ml will be more than enough for medium length hair if you have dry-normal scalp.
Oily scalped beauties don't go overboard with the amount you take because you'll never get a dry scalp with this product. It retains some moisturise but that doesn't mean your scalp isn't clean.
MY PERSONAL EXPERIENCE
I was apprehensive of trying yet another hair product because I was losing a lot of hair. But then it's organic and sulphate free claim drew me to it. I'm glad I tried it. It brought about a major change in my hair. Before, atleast 50 strands of my hair will be lying on the shower floor but after this shampoo, only 2-5 strands shed during shower.
Would I recommend / repurchase this? Yes, definitely. This is such an amazing Shampoo. It's a shame that it's not well known. So, don't hesitate. Buy it NOW!!