Hola amigo! Today, I'm going to review about a face wash that I can swear-by. Proof??I am in the middle of finishing the second tube. Yep, VLCC Ayurveda Haldi & Tulsi Face Wash- Deep Pore Cleansing and Brightening is full of promises.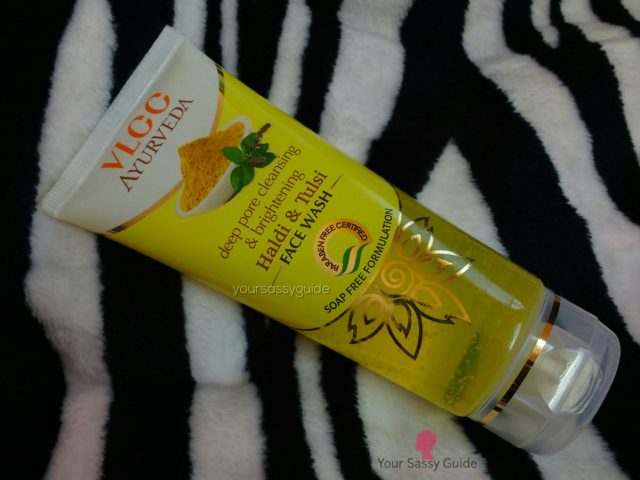 EVERYTHING YOU NEED TO KNOW
MRP: Rs.99 (Available online at Flipkart, Jabong, Amazon and Nykaa).
Content: 100 ml.
PROS :
VLCC Ayurveda Haldi & Tulsi Face Wash has a flip open cap that makes it easily accessible.
Also, it has a slight yellowish color.
It smells like turmeric (haldi). I personally like the smell but for those who are averse? to it…worry not. It fades away in 30 seconds flat!?
Haldi & Tulsi Face Wash cleanses the skin really well.
It leaves the skin feeling clean, fresh and soft.
Is it really deep pore cleansing as it claims? Yes, I have noticed it reduces pimples and minor blemishes! I had a reminder pimple from Aunt Flo ( ah! the agony each month?) but I just made sure to use this face wash twice a day and never touched it. Tadaa! Gone in 5-6 days.
Suitable for all skin types (just vary needed quantity depending on your skin type), very dry skin being the exception.
It contains natural ingredients and also has soap free formulation.
Also, it is free from synthetic colorants and paraben.
Affordable.
Not tested on animals.
Shelf life: 24 months.
CONS :
VLCC Ayurveda Haldi & Tulsi Face Wash's packaging is not something that will make one grab it. It is the same ole' transparent tube with a yellow plastic wrapper containing all the product information .
Also, it is not the most friendliest package for travel. It spills like crazy (thank god I packed it into a zip-lock pouch during my travel). Not travel friendly.
The consistency is also quite runny and more often than not you end up with more product than needed.
It is not skin brightening as it claims.
Rating : 4.1/5.
SUGGESTIONS :
Ideally, you can wash your face 2-3 times a day.
Overdoing it will strip away natural oil from the face.
MY PERSONAL EXPERIENCE
When I had this resolution that I should shift to a natural face wash, turmeric was the first ingredient that came to my mind. And I should say I am very impressed with how it is working.
Would I recommend it? Yes!