Earlier, we saw a light moisturizer that will work great for people with oily skin type and combination skin type. Not wanting to leave behind the dry skinned people, let's look into a body lotion that claims to be the perfect solution for dry skin.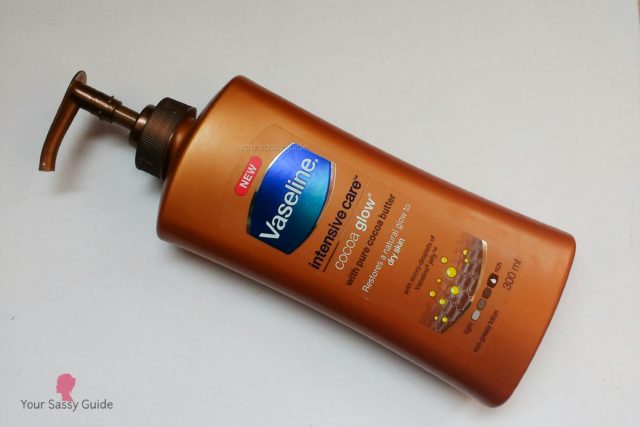 Vaseline Intensive Care Cocoa Glow Nourishing Body Lotion claims to restore a natural glow to dry skin. It also claims to contain pure Cocoa butter and to be non-greasy.
EVERYTHING YOU NEED TO KNOW
MRP: Rs. 265 (buy it at great discounts from Jabong, Amazon and Nykaa).
Content: 300 ml.
PROS :
The packaging looks decent. It comes in a light brown bottle with dark brown lettering.
It comes in two models- the smaller bottle contains 100ml of this product and a flip open lid. The 300 ml bottle (super saver pack) with a squeezable top.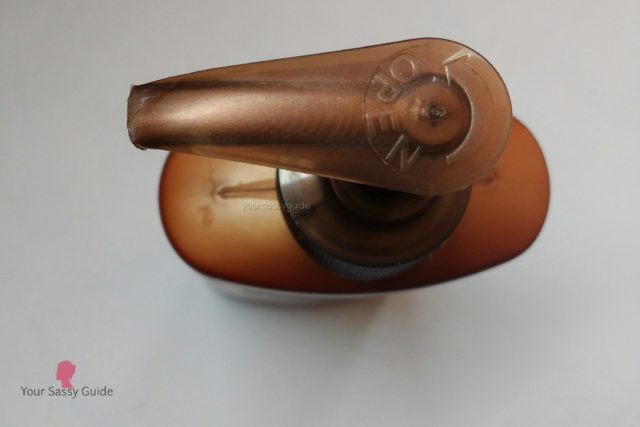 The first thing I noticed about this lotion is its smell. It smells of cocoa and caramel. Such a sweet smell that made me grab this product instantly.
The smell stays on your skin for 2+ hours.
Furthermore, it has a creamy texture and is white in colour.
Cocoa Butter Body Lotion moisturises even dry patches really well.
The moisturisation lasts for 5-6 hours on my dry to normal skin (only my skin knows how it's going to be for the day :P).
It has a thick consistency but that doesn't make it hard to blend in your skin or anything. It blends into my skin really well in a minute.
True to its claim, it is non-greasy.
It contains cocoa seed butter and caramel. It brought a smile on my face to see them in the ingredients list. Now you get where that pleasant smell comes from.
Shelf life : 24 months.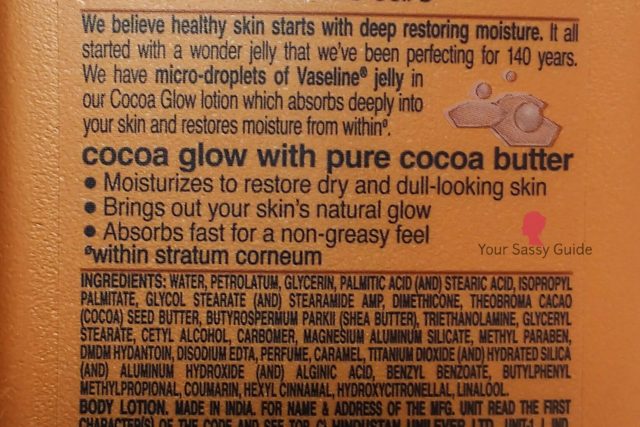 CONS :
I feel it's a little too heavy for me when my skin decides to behave normally.
And it doesn't add any glow to my skin like it claims.
Not travel friendly.
Rating : 4.2/5.
SUGGESTIONS :
Apply it immediately after taking bath as it'll help to trap the moisture in your skin and make your skin super soft.
Sometimes, I apply this moisturiser when I feel the beginning of a rash due to friction between skin-skin or skin-clothes contact. It reduces the itchy feeling and keeps the area smooth preventing rash.
MY PERSONAL EXPERIENCE
I personally feel this moisturiser is a little too heavy for me. I have used much better moisturisers from Vaseline. But even I can't deny that the smell really hooks me up every time I wear it. But I find it really good on the 'too dry skin' days.
Would I recommend it?
Yes, if you have super dry skin go for it. But on the other hand, if you have normal or oily skin please avoid it. It'll be too heavy on you.