Okay. Every girl needs to indulge once in a while. Is it my mistake that I'm addicted to red lipsticks. Add to the fact that it is organic. Can you guys blame me for splurging a lil' with this Ruby's Organics Lipstick?
RUBY'S ORGANICS CLAIMS :
Ruby's Organics Lipstick carries all the benefits of a lip balm but wears and stays like a lipstick. The semi-matte finish colors are made to suit everybody. The moisturizing butter of Mango and Shea help soften lips and are combined with a rich blend of antioxidant and oils of Almond and Castor.
EVERYTHING YOU NEED TO KNOW
MRP: Rs.990 (Available in Nykaa and Amazon).
Content: 3.7 gm.
It comes in 8 versatile shades-
Raisin (earthy brown shade)
Roseate (peachy pink shade)
Brick (crimson red shade)
Apricot (candy red shade)
Plum (jam shade with magenta undertones)
Sweet Pea (bubblegum pink shade)
Burgundy (burgundy shade)
Nuddy (nude shade)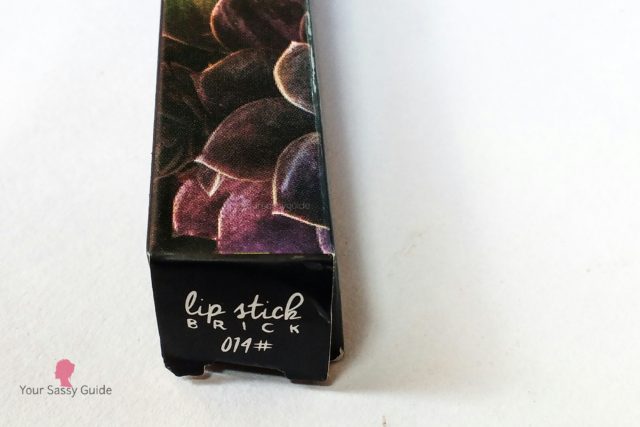 PROS :
Ruby's Organic Lipsticks come in a black crayon plastic case with the brand name written in white. Though this looks like a crayon lipstick needing to be sharpened, it's not! It is twister tube (Thank God!).
It is a warm red shade, a crimson red to be specific that will suit all the skin tones.
True to its claims, it is so moisturizing. All that mango and Shea butter soften the lips. I didn't even exfoliate my lips when taking the LOTD.
Ruby's Organic lipstick has good pigmentation. One swipe delivered enough color for a subtle everyday look and two coats made sure you are ready for a wedding or a party.
It gave off a semi matte finish.
I love it's non sticky formula.
In addition, it has a very mild, pleasant fragrance.
Furthermore, this shade instantly brightened my complexion.
Also, it is vegetarian. And it doesn't contain alcohol parabens, SLS, SLES Petroleum, Chemical Preservatives or Heavy Metals.
It has jojoba oil, almond oil and castor oil. I mean, do you really need better lip care?
Not tested on animals.
Travel friendly.
Shelf life : 18 months.

CONS :
Unfortunately, it lasted only for 3-4 hours on me without any meals. And it does not survive a meal. Though I'm kind of console myself that I'm not swallowing any chemicals.
Availability. Since it is kind of hard to get your hands on, especially offline.
It is not smudge proof. It transfers!
I feel it is a bit too expensive.
Rating : 4/5.
 SUGGESTIONS :
Also, be careful while placing the cap back on the product. I have cut the lipstick bullet with the cap many a times. And it is quite messy to clean it up :/.
MY PERSONAL EXPERIENCE
Though the price, staying power, transferring part etc. lets you down, my heart says a big AYE than a NAY to this product just for its Ingredients list and its moisturizing nature. And as a red lover, I do find this shade of red to be an universally flattering shade for all the awesome women out there!
Would I recommend it? If you are huge on lip care and don't mind spending a little more for it, go for it!