Hi guys! Today's review is going to be about the Rica Avocado After Wax Lotion.
Rica Avocado After Wax Lotion Claims:
Carefully removes wax residues. Avocado Oil, rich of vitamins and Sweet almond oil ensures an elastic, moisturizing and nourishing action. Contains Aloe Vera extracts. Rapidly absorbed. Non-greasy.
EVERYTHING YOU NEED TO KNOW
MRP: Rs. 990  (Available online at Flipkart, Jabong, Amazon and Nykaa).
Content:  250 ml
PROS :
The packaging is practical and comes in a no fuss brown plastic bottle with a spray nozzle of good quality.
It has a mild pleasant smell.
Avocado after wax lotion is effective in removing the wax residues.
Most importantly, it moisturizes the skin and makes it supple.
It is a light, transparent liquid.
As promised, it is non greasy.
If you had asked me a couple of years earlier I would have definitely said it is really costly. But on a closer scrutiny at other similar products the quality is in par with the price offered.
Expiry Date: 36 months.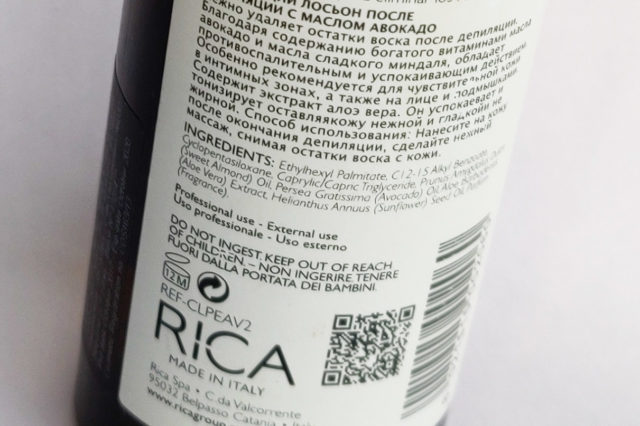 CONS :
Not exactly travel friendly because there is some leakage when left lying around in the travel case. It should be kept erect at all times.
Rating : 4.5/5.
SUGGESTIONS :
Apply and massage after waxing to remove wax residues and soothe the skin.
MY PERSONAL EXPERIENCE
I know I had told in my earlier Rica Brazilian Wax with Avocado Butter Review that after wax solution is a splurge. In spite of it, there are a few reasons why I bought this- my skin became super dry and using the Lakme Bi-phased Remover wasn't doing much to moisturize it after waxing. Secondly, when I ran out of the Bi-phased Remover and wanted a new one, its price had increased. Paying Rs.300 for 60 ml product is definitely costlier than paying Rs.990 for 250 ml for the Rica Avocado After Wax Lotion. I don't regret my purchase either. This product lives up to its claims.