Moisturizing is a simple skin care routine that most of us take lightly. But do you know that in addition to rehydrating skin, preventing flakiness and dullness, it also slows down the aging of skin. Nivea yet again offers a great product. It's no wonder it stands to be one of the best moisturizer available in the market at a reasonable price. Nivea has always delivered what it claims.
EVERYTHING YOU NEED TO KNOW
MRP: Rs.150 (buy it at great discounts from Amazon and Nykaa).
Content : 100 ml.
Pros :
Nivea Soft Moisturiser comes in a white container with a screw on lid. The packaging is simple.
Nivea Soft moisturizer has a perfect consistency neither too runny nor too thick.
It is milk white in color.
Nivea Soft is perfect for combination skinned people since it is a

light moisturizer

.
It is actually suitable for all skin types because you just need to vary the quantity used according to your skin type.
Dermatologically tested.
It gives fresh and soft skin.

It totally

delivers what it claims .
The quantity given is really good .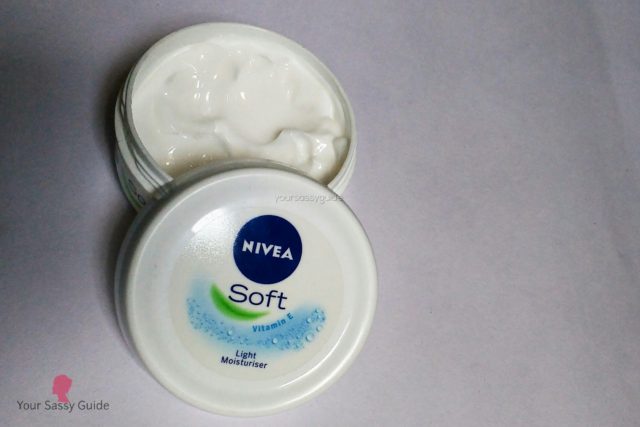 It's a perfect moisturizer for winter.
It blends into the skin really well.
Value for money. A small quantity only is needed for each use.
It has a Shelf Life of 30 months so if you prefer it only during winter and have some leftovers it can be used again.
It doesn't really smell much (personally I don't mind if it smells nice but it will be good news for people who are smell sensitive).
Affordable.
Cons:
No SPF.
Not so travel friendly. If, by chance, the container gets inverted the product will stick to the cap and it is super messy when you open it.
Not so hygienic because we should dip our fingers in to take out the product.
Rating : 4.2/5.
Suggestions :
Just vary the measure used according to your skin type. If you feel your skin is too oily after application, take lesser quantity for next use.
Make sure moisturizing is always the first step in your makeup routine after cleansing your face.
Apply moisturizer immediately after washing the face to keep the moisture in the skin.
MY PERSONAL EXPERIENCE
Quite a nice product at this price range. It moisturises my skin really well. It makes my skin look soft, I can see the difference well before and after product usage.
To view a range of Best moisturizer
click the link.