Today's review is about a mascara that had stirred up the makeup world with its claims. Yes, I am talking about Maybelline the Falsies Push-up Drama Mascara. I had heard so much about this mascara that I just couldn't resist buying it.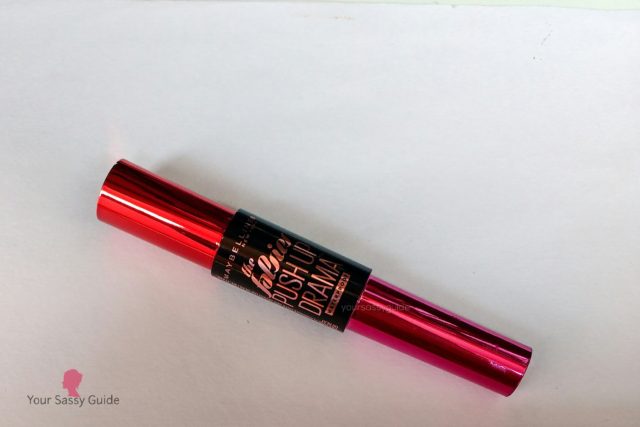 EVERYTHING YOU NEED TO KNOW
MRP: Rs. 550  (buy it at great discounts from Jabong, Amazon and Nykaa).
Content: 9.7 ml.
The Falsies Push-up Drama Mascara comes in two variants – waterproof and washable. It promises dramatic volume with a 45 degrees lift and a cup-shaped and push up brush that scoops, coats and lifts lashes.
I had bought the waterproof variant since I'll be needing the drama to my eyelashes during weddings or some other functions.
PROS :
The mascara comes in a funky and eye-catching metallic tube with a red cap, black body with rose gold lettering and hot pink bottom. It looks like a dual mascara but it's not. Yep, I totally dig the packaging.
The wand is made of plastic and the bristles are far apart which helps in separating the eyelashes.
Basically, the wand is a push-up brush with cups to scoop up the lashes and coat them evenly.
The texture is quite thick.
It is highly pigmented. One swipe did give me a really good black finish.
And it definitely added

volume

to my eyelashes.
It separated my eyelashes beautifully to give a thick lashes impression.
Also, it applied evenly even on my lower lashes. I could coat them without smudging.
It dries to a very dark black finish in about 4-5 seconds.
It didn't clump my lashes for the first two months of use.
It lasted 8+ hours on me.
Travel friendly since the tube is quite sturdy.
Smudge proof.
Waterproof.
Shelf life : 30 months.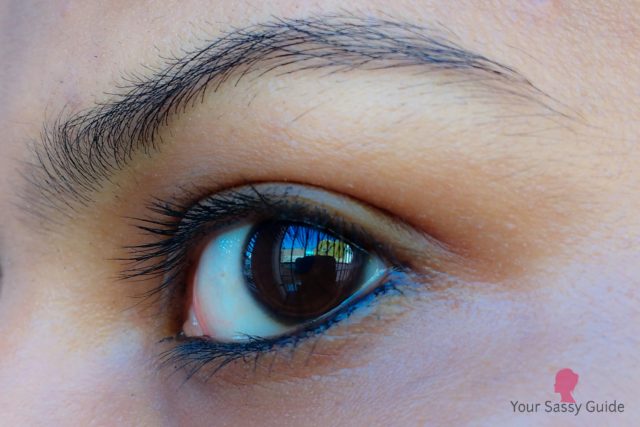 CONS :
It didn't lengthen my lashes or curl them.
Waterproof formula and so very very difficult to remove.
Unfortunately. it irritates my eyes and makes it water.
It clumps when you add more than one coat. I prefer a feathery look that gives an impression of natural thick eyelashes. But if you prefer a clumpy look, this is not an ideal mascara for you.
The wand is abrasive since it has plastic bristles. So, you need to be really careful when starting to apply from the root of your lashes.
I feel it's too costly because it certainly doesn't have any wow factor to it.
The mascara started becoming dry after 2-3 months of usage itself.
After 2 months of purchase, it started clumping a lot. It clumps your eyelashes with just a single coat. It made my lashes super clumpy and stiff that I lost 2-3 lashes when removing it.
Rating : 3/5.
SUGGESTIONS :
Don't wiggle the brush while applying like you do for other mascaras. Just sweep it from root to tip like a comb.
Use a oil-based makeup remover to remove it. It makes the removal part easier.
MY PERSONAL EXPERIENCE
They say all that glitters is not gold. This was true in case of the Falsies Push-up Drama Mascara. Initially, it was great. It gave my lashes a natural thick lashes look but after 2 months or so it started clumping so much. I thought it was because of product build up in the wand and cleaned it. But it clumped even after that. That's when I realized that the mascara was becoming dry. I take good care of my mascara mind you, no pumping it to get more product or anything like that. So, I was really disappointed when I realized the mascara itself was not good enough.
So, would I recommend it? Heck, no. It was really good in the beginning. I would have been okay with any con just for that falsies look but it became a total disappointment when it started drying for no reason.