Blush can make or break your makeup look. Right amount and right colored blush can make your dull face glow or excess of it can make you end up looking like a china doll. While cool toned people can carry off pink blushes with ease, warm toned beauties should watch out! Coral blush is your best friend but again if you have medium to dusky skin tone go for neutral shades. Ugh! Confusing isn't it? Let's skip all that and just look at a blush with which you just can't go wrong. Maybelline Color Show blush in Creamy Cinnamon is for skin tones ranging from wheatish to dusky skin tones.
 EVERYTHING YOU NEED TO KNOW
MRP: Rs. 299 (buy it at great discounts from Jabong, Amazon and Nykaa).
Content: 7 g.
Maybelline Color Show blush is available in 3 shades.
Fresh Coral.
Peachy Sweetie.
Creamy Cinnamon.
PROS:
The packaging is cute. A black plastic pan with transparent lid and the product itself is placed on a dome structure. That's how they managed to pack 7 g of product in a pan with 2-3 cm diameter.
As I mentioned earlier, the shade Creamy Cinnamon is a warm neutral coral shade that is earthy and natural. You can use it for daily wear for a fresh, natural look.
Furthermore, it has a smooth texture that glides on your skin effortlessly.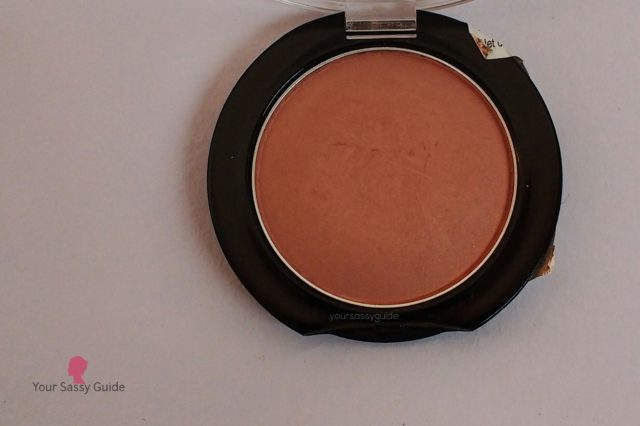 This blush is easily blendable.
It gives a satiny finish to my cheeks.
And it has mild shimmer that gives a glowy look.
I didn't experience any fallout with this product.
Most importanatly, it does not break out my skin, As it is a lightweight blush, it leaves room for the skin to breathe.
And it stays on for 3-4 hours on me.
Furthermore, it is perfect for warm skin tones. Wheatish to dusky skinned beauties can easily carry it off.
It is dermatologically tested.
It is non-comedogenic, meaning it does not block your pores.
And, it has a shelf life of 36 months.
It is travel friendly.
CONS :
I actually don't have much to complain about this product. I just wish it lasted a little longer. But I really couldn't make it a big deal. I feel the product performs well given its price.
Rating : 4.6/5.
SUGGESTIONS :
Never smile and apply your blush on the apple of your cheeks. You'll end up looking like you have been hit up on your cheeks with a frying pan.
Just apply it normally along your cheekbones, the bone just under your eye sockets. Start from inwards and work outwards.
MY PERSONAL EXPERIENCE
Color Show blush has earned a special place in my heart. I love it because it gives me a perfect no-makeup look but makes my face look fresh and naturally glowy. I also use it as a highlighter on my browbone at times.
So will I recommend it? Definitely, it's great for natural everyday looks.