Hiyaaa!! Any good hair serum is godsend for gals with dry, tangle prone hair. I was introduced to the Matrix Opti Black Dazzling Shine Serum by my hairstylist to care for my smoothened hair. Let's see how it fared..
Matrix Opti Black Dazzling Shine Serum Claims:
To protect the shine of dark colored hair up to 24 washes.
Vitamin E treatment to add luster to naturally dark or colored hair.
Suitable for dark colored hair or naturally dark hair lacking shine.
EVERYTHING YOU NEED TO KNOW
MRP: Rs. 410 (Available online at Flipkart, Jabong, Amazon and Nykaa).
Content: 100 ml.
PROS :
Matrix Opti Black Serum comes in a sturdy, transparent plastic bottle with a black pump dispenser. The packaging is simple and clutter free.
The pump dispenser helps to control the amount of product we need.
Opti Black serum is transparent with the right consistency, like neither super thin nor thick- just in-between.
It is light and non-greasy.
Also, Opti Black Serum makes the hair a bit soft and tangle free.
It added good shine to my hair making it look all glossy and silky.
And I could actually find a difference of how my hair looks out in the sun with and without the serum.
The effect lasts up to 8-9 hours if you stay indoors and up to 4-5 hours in the hot sun.
It is enriched with Vitamin E.
Shelf life: 36 months.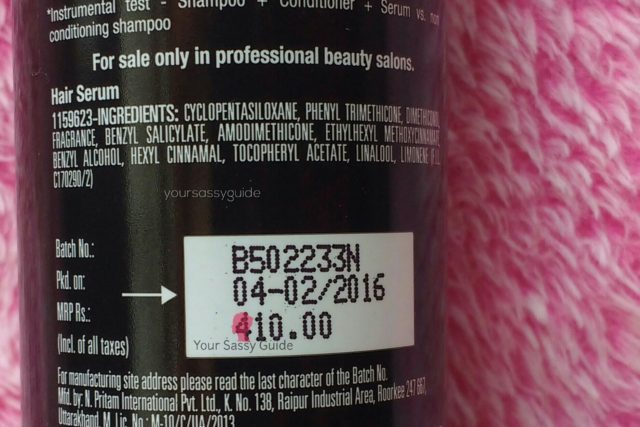 CONS :
Unfortunately, the packaging is not travel friendly because of product spillage. Yep, one time I had put it in check-in luggage (thankfully, inside a ziplock bag), and guess what?? Phew spilled half of the product. So guys, make sure you get a new one if you are travelling long distance.
Can't help but feel it's a bit overpriced.
Rating : 4.1/5.
SUGGESTIONS :
Always apply hair serum only to hair below your ear level. Do not apply it on the scalp.
MY PERSONAL EXPERIENCE
Opti Black proved to be better than expected, not that I expect much from any serum. Even though I'm skeptical about the effect lasting for 24 washes etc., even I can't deny that it keeps my hair from getting dry, adds a bit of shine and makes the hair smooooth. Overall, a really nice serum.
Recommended.