Hiya girls! Today I'm going to review a lipstick that beauty bloggers have been raving about for a long time. All these days, I used to think a non-organic lipstick costing more than 1000 bucks is not worth spending money on. Also, matte lipsticks demand that our lips be exfoliated and none of us can spare the time every time we want to wear it. But I also badly wanted to try a good MAC product for my first time, so I went ahead and bought it. And found an amazing solution for the dry lips problem too *widegrin*. Wanna know what it is? Read on to know about M.A.C Retro Matte Lipstick – Ruby Woo and more.
M.A.C Retro Matte Lipstick Ruby Woo Claims:
This is the iconic product that made MAC famous. This long wearing formula features an intense color payoff and completely matte finish.
long-wearing, 8 hours
non-feathering
fade-proof
Formulated to shade, define and showcase the lips. Hundreds of hues, high-fashion textures.
EVERYTHING YOU NEED TO KNOW
MRP: Rs. 1500 (Available online at Flipkart, Jabong, Amazon and Nykaa) / SGD 26 (In Changi Airport) / SGD 33 (In Lazada).
Content: 3 gm.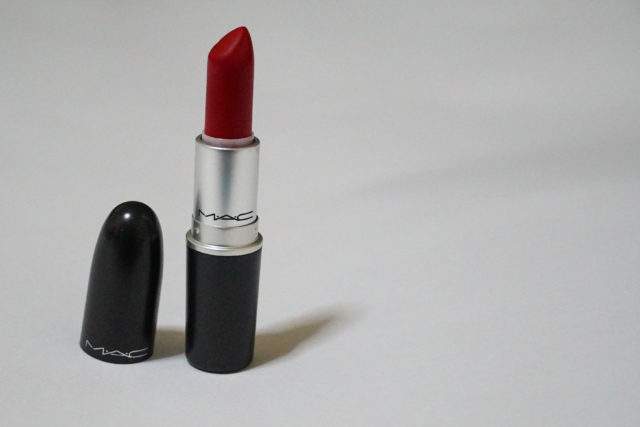 PROS :
Do I really need to tell you guys about MAC's packaging? It was bold, cute, sexy and classy all at the same time. The outer carton was in black and the shade color with all the product details written on it. The bullet was a shimmery black with MAC written in silver.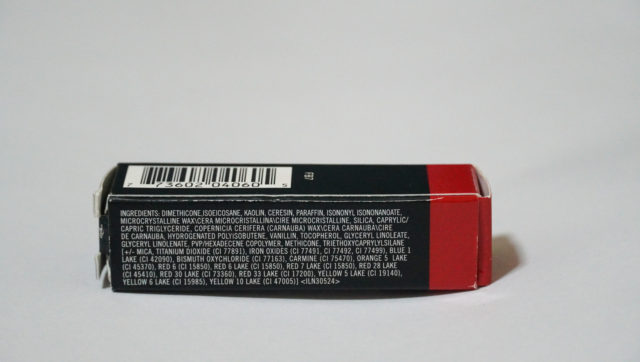 I just love the shade Ruby Woo. It is a very matte vivid blue-red and is sooo gorgeous.
Also, it smells really nice.
The pigmentation is really good. One swipe delivers opaque finish but you can build up the color to an extent if you want.
The Ruby Woo lipstick doesn't tug and glides smoothly on lips while applying.
It feels almost weightless on my lips.
Staying power: It stays put for 7-8 hours when you have light, non-oily food. But after a complete meal, it fades a bit. But when it fades, it fades away nicely.
It is waterproof.
Ruby Woo doesn't feather or settle into fine lines.
It is a bit drying if you just apply on your lips, yes but aren't all matte lipsticks are? I find it to be not drying if I properly exfoliate my lips. Also, the best way to escape fro this is to use MAC Tendertalk Lip balm. Will be reviewing it shortly.
The best part about Ruby Woo is that it suits all skin tones from fair to dusky. If suppose it doesn't suit you like it is too loud, you can always tone it down by using a lip balm underneath, wait for a minute or 2 and then apply Ruby Woo. Alternatively, you can kiss a tissue paper to give a faded subtle shade.
I admit MAC Ruby Woo is expensive but worth it.
It is travel friendly. The cap shuts with a click and the bullet itself is quite sturdy.
Shelf life: around 36 months. Since the packaging has no definite date, you can check up using the batch number on checkfresh.com. It is near the bar code, eg. mine is FB7.
CONS :
MAC Retro Matte Lipstick transfers. Yep, it's on my glass, spoon etc. Is it too much to ask a 1.5 k lipstick to stay put? Not Smudge-proof.
The shades are limited. There are only 7 shades namely Runway Hit, All Fired Up, flat out fabulous, ruby woo, relentlessly red, dangerous and steady going.
Rating : 4.7/5.
SUGGESTIONS :
I would recommend using it every other day rather than everyday. This will give time for your lips to breathe.
Love the shade but don't want to shell out 1.5 k? Checkout the L'Oreal Paris Color Riche Pure Reds Star Collection- Pure Rouge, it is a perfect dupe for M.A.C Retro Matte Lipstick – Ruby Woo.
MY PERSONAL EXPERIENCE
You can't go wrong with Ruby Woo. Seriously. At least 90% of the time. Want to know why? Because Ruby Woo makes me feel gorgeous and pretty even when i'm wearing old clothes and a messy hairdo.
Would I recommend it? Yes!