"Improve your packaging to up your sales", said a wise man. And I admit I'm becoming a sucker for well packed, expensive products. L'Oreal Paris Color Riche Moist Matte Lipstick 236 Vin De Fantasme came into my vanity for this very reason and the fact that I miss a purple shade in my collection of lipsticks. But was it really purple?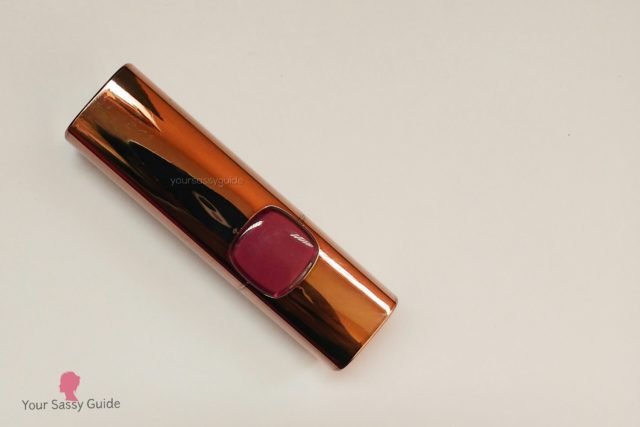 L'Oreal Paris Color Riche Moist Matte Lipstick 236 Vin De Fantasme Claims:
Indulge your lips in rich vibrant color with L'Oreal Paris Color Riche Moist Matte Lipsticks.They give a gorgeous velvet matte finish.The unique formula contains jojoba oil for unrivaled moisture and comfort along with matte gel technology to create an intense matte look.
Highly pigmented color that delivers rich matte effect.
Jojoba Oil keep lips hydrated.
Gives a smooth and silky finish.
Easy to apply and long lasting.
EVERYTHING YOU NEED TO KNOW
MRP: Rs. 950 (Available online at Nykaa,Flipkart, Amazon, Jabong).
Content: 3.7 gm.
PROS :
The packaging screams luxury! But aren't all L'Oreal Color Riche lipsticks like that? The rose gold metallic case with color indicator is classy.
Furthermore, the broad range of 24 shades certainly don't hurt. I mean you have a shade for everyone from nudes, red, brown, plum, chocolate, pink and even beige man. So, indulge away.
Vin De Fantasme is a deep plum shade. I'm sporting this shade a lot in contrast to the grey weather that Chennai is sporting currently!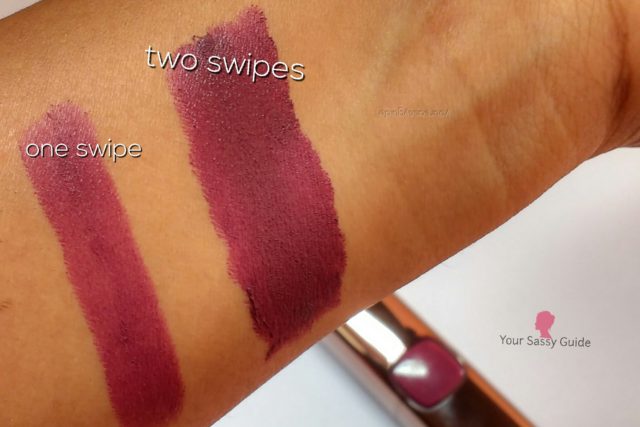 Contrary to my early fear, it is a shade that anyone with wheatish, medium , dusky or dark skin tones can carry off with ease. And pale skins too can carry this off if you are in for a dramatic, bold lips!
It has a creamy matte texture and packs a non drying formula.
Glides on the lips when applying lipstick without tugging.
It stays put for 5-6 hours with light snacks in between.
And while it doesn't survive a full meal, it certainly leaves a nice stain behind without fading in patches.
On my lips, it stays hydrated for 2 hours and then starts making it dry without a lip balm (Yep, my lips become dry fast). I think it's quite a feat for a matte lipstick.
I also like the fact that there is almost no deductible smell in this lipstick.
It is very smooth and comfortable on the lips.
It gives off a good coverage. One swipe itself delivers the original color and gives a medium to opaque finish. Two swipes, you are good with a vamp look (If you carry a pale look with it).
Also, it doesn't feel as dry as other matte lipsticks I have tried. Maybe because of being infused with jojoba oil.
Vin De Fantasme is highly pigmented and it leaves a nice fading stain on the lips.
Waterproof.
Shelf life: 2 years.
CONS :
First of all, it's not transfer proof. It transfers a little on spoons but nothing major.
Though it's a nice shade and all, I think it is more appropriate for mature women. I dunno I feel a lil' old wearing that shade.
It's too costly and certainly makes me want to rethink if I'm wise with my money. Nowadays, it's possible to get 2 lipsticks with the same quality as this one. But what can you say, some e-com sites lure you with attractive offers.
Rating : 4/5.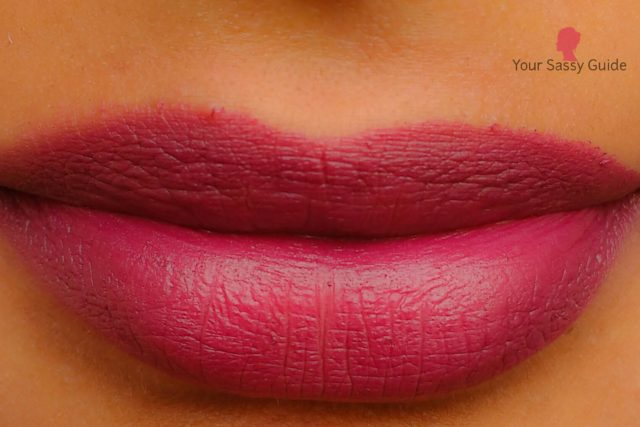 SUGGESTIONS :
You are good to go as far as you exfoliate and clean your lips well. The formula tends to cling on dry, parched lips.
Apply lip balm underneath before applying Vin De Fantasme to get super smooth lips look!
Though anyone can carry it off well, it would look best on dark skin tones!
MY PERSONAL EXPERIENCE
I find Vin De Fantasme to be a perfect shade for winters. To add a touch of color to an otherwise grey day. It's a good quality lipstick but I can't help feeling it's a little over priced. I mean put 500 bucks and get a MAC instead.
Would I recommend? If you don't mind being liberal with your pocket. Why not?