We took a quick peek at the Star Collection Lipsticks. Now, let's check out the shade Pure Brick from the Star Collection Range. The lovely Aishwarya Rai endorses this shade.
EVERYTHING YOU NEED TO KNOW
MRP: Rs. 995 (Available at Nykaa  and Amazon).
Content: 4.2 gm
Pure Brick is a red shade with brown undertones.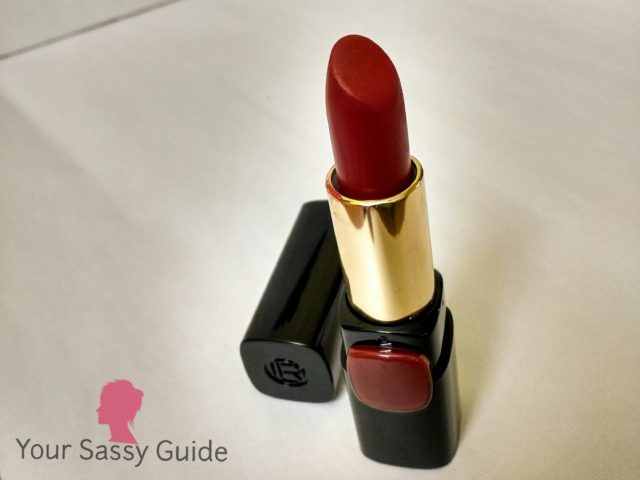 PROS :
This L'Oreal Color Riche lipstick comes in a glossy black tube with a color-coded centre. The lipstick is present in a gold tube. The packaging sure steals hearts with its classy and chic packaging.
Pure Brick is a red lipstick with brown undertones. This is one of those lipsticks that will look more flattering on dusky and dark-skinned women.
Pure Reds Lipsticks are true matte lipsticks.
Pure Brick does not tug. Application is pretty smooth with it.
It doesn't feel heavy or waxy on lips. But at the same time, it doesn't feel very light too.
Being a matte lipstick, I thought it'll be drying. But surprisingly, it does not dry out my lips. So, you can safely skip applying lip balm (This is what I observed. Feel at liberty to apply lip balm if you find it drying).
In addition, it is highly pigmented. It gives an opaque finish in just one swipe.
Also, it has a very good staying power. It stays up to 5-6 hours with light snacks.
And it semi-survives meals. Why do I say semi? It fades from the middle, that is the outer layer stays intact. So, I guess you can just smack your lips together for an even application and you are set!
One thing I just love about this lipstick is the natural tint it leaves behind. The tint stays on for more than 7 hours.
Did I mention its shelf life? It has a shelf life of 36 months.
CONS :
It transfers a little.
Lipsticks from the pure red collection is expensive.
Rating : 4.7/5.
SUGGESTIONS :
This lipstick will look gorgeous on dusky and dark-skinned beauties.
However, medium skinned woman can also pull it off.
This shade will make fair-skinned beauties look kind of aged. So, you are better-off avoiding it.
MY PERSONAL EXPERIENCE
I wanted to get my hands on L'oreal Lipsticks for quite some time and the very name of the lipstick, 'Pure Reds' drew me to it. I can safely say that this is the first matte lipstick that doesn't dry out my lips. Though the price tag makes us pause, the staying power and the natural tint it leaves behind makes to say 'kudos' to it!
Would I recommend this? Yes, it's a perfect office lipstick and a flattering shade for dusky and dark-skinned beauties.
You can find detailed reviews of Pure Scarleto, Pure Garnet and Pure Fire.