Hey ladies! Today I'm going to review a cleanser that swears to shoo away roughness, dullness from the skin and deliver a perfectly cleansed skin for a complete anti-wrinkle and firming routine. Pretty tall claims huh? Let's see if L'Oreal Paris Revitalift Milky Cleansing Foam  keeps its promise.
L'Oreal Paris Revitalift Milky Cleansing Foam Claims:
LHA: A gentle exfoliating agent to instantly remove make up residue and thoroughly eliminate impurities.
GLYCERIN: To gently smooth roughness, for a visibly revived skin.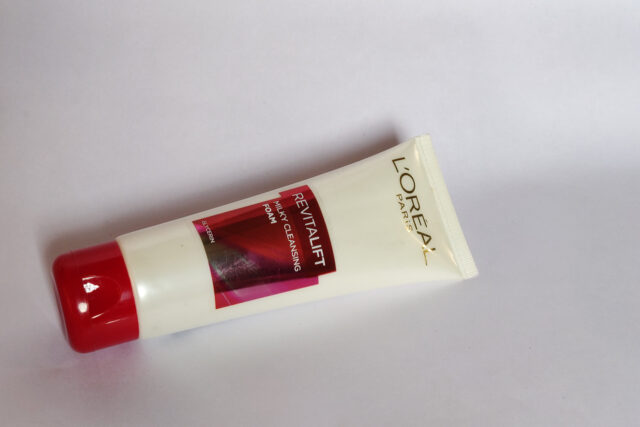 EVERYTHING YOU NEED TO KNOW
MRP: Rs. 610 (Available online at Flipkart, Jabong, Amazon and Nykaa).
Content: 100 ml
PROS :
L'Oreal Paris Revitalift Milky Cleansing Foam comes in a white tube with a red flip open cap.
The Milky Cleansing Foam has an off-white pearl color and has a thick consistency.
Also, it has a soft, shiny texture.
Most importantly, the Milky Cleansing Foam gives a clean, soft, smooth feel to the skin.
Best of all, it removes makeup residues really, really well.
It suits all skin types.
Also, I didn't experience any breakouts while using this product.
If you keep this tube at the very top or at the side of your bag, it will not squeeze out while travelling. But shove it away at the bottom, you will end up with cleanser all over your bag. So, travel friendly as long as you are careful.
Shelf Life: 36 months
CONS :
Unfortunately, I don't know if it really reduces signs of aging as it claims. I didn't note any skin firming effects.
Also, I feel it is a bit expensive for a cleanser. I feel any cleanser more than 300-350 bucks should do something awesome other than cleansing.
Rating : 4/5.
SUGGESTIONS :
Guys though this is a cleanser, you cannot just wash off your make up using this. Trust me I tried it one fine night when I was really tired.
The best way would be to use a makeup remover like Lakme Absolute Bi-phased makeup remover and then use the Milky Cleansing Foam to wash off the makeup residue.
MY PERSONAL EXPERIENCE
As a cleanser, it milked a lotta love from my heart ;P Get it? But as a skin firming, tightening cream? Nah didn't see much changes.