Now that my obsession with colored kohls is over,  I'm back to sporting black kajals. And just when I was on the lookout for good black kajal, I came across L'Oreal Paris Kajal Magique.
Kajal Magique Claims:
I claims to be infused with the goodness of cocoa butter, Vitamin E and olive oil esters. The mineral pigments deliver deep black color in a single stroke. L'Oreal Kajal Magique claims to perfectly balance care and style.
EVERYTHING YOU NEED TO KNOW
MRP: Rs.285 (Available at Flipkart, Amazon and Nykaa).
Content: 0.35 gm
PROS :
Kajal Magique comes in a black retractable tube with hot pink lettering. It looks nice but honestly it doesn't meet the standard I keep for L'Oreal packaging.
The texture is quite smooth. It glides smoothly and doesn't tug on my eyes.
Kajal Magique has really good pigmentation. It delivers good colour in one swipe.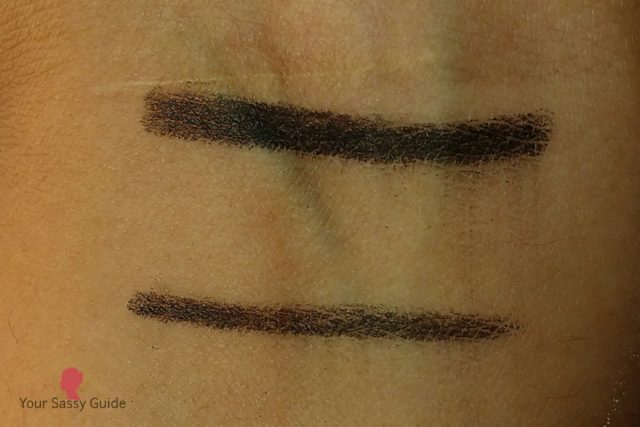 Furthermore, it boasts of mineral pigments for intense black color.
Kajal Magique gives a jet black finish. It delivers much more super black colour than the Super Black Kajal itself.
It stays put for more than 9+ hours with very mild smudging that is hardly noticeable. And peeps I was not in an air-conditioned room or anything at that time. I was out and about and yet this kajal did so well that I swear by this product.
Also, it is smudgeproof.
And oh did I mention it is amazingly waterproof too.
The packaging is sturdy and compact. It will prove to be a great travel companion.
The retractable tube is very convenient to use.
It also helps in preventing product wastage.
In addition, it is ophthalmologically tested and is suitable for contact lens users.
It is affordable.
And it is perfect for everyday use.
Lastly, it has a shelf life of 2 years.
CONS :
You need a makeup remover or olive oil to remove it properly. But that's okay. It's expected with such a performance.
Rating : 5/5.
SUGGESTIONS :
Be precise with your application of Kajal Magique. It is quite difficult to remove once applied.
If you have big eyes, use Kajal Magique on your lower lash line to define your eyes.
If you have small eyes, avoid using kajal on the lower lash line. It'll close up your eyes. So, use the kajal on your upper lash line only.
MY PERSONAL EXPERIENCE
Kajal Magique has managed to steal my heart from Maybelline. It is better than Colossal Super Black Kajal and is also cheaper than that. It gives a jet black finish in a single swipe itself.
Would I recommend it?
Absolutely. Just close your eyes and pick up Kajal Magique. It won't disappoint you.