Remember the good ol' days when 'autographs' were a thing, what a big deal it was to own celebrity signed stuff? Well, L'oreal Paris Color Riche Pure Reds Star Collection Lipsticks certainly reminds us of those days. Star Collection Lipsticks carry the signatures of the celebrities who endorse them. Seven Asian celebrities endorse the seven shades from the Star Collection.
The available 7 shades and the celebrities are
Pure Rouge, endorsed by Freida Pinto.
Pure Vermeil, endorsed by Fan Bingbing.
Pure Amaranthe, endorsed by Gong Li.
Pure Brick, Aishwarya Rai.
Pure Scarleto, endorsed by Blake Lively.
Pure Garnet, endorsed by Sonam Kapoor.
Pure Fire, endorsed by Li Bingbing.
I'm going to swatch and give a little peek on the shades Pure Garnet, Pure Scarleto, Pure Fire and Pure Brick. Stay tuned for detailed reviews!
Price : Rs.995 each. (Available at Nykaa  and Amazon)
Content : 4.2 gm.
Packaging :
Star Collection Lipsticks come in super classy black plastic tubes with color coded buttons.
A sticker with the shade name and manufactured date is at the bottom of lipstick.
Star Collection Lipsticks are true matte lipsticks. Also, all the shades are red with different undertones.
Texture:
Pure Red lipsticks have creamy texture and don't tug much.
The shades Pure Garnet and Pure Fire tug a little. But Pure Scarleto and Pure Brick glide smoothly.
Swatches: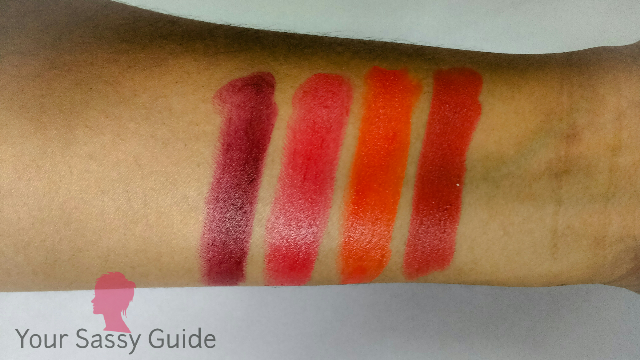 Pure Garnet is a red lipstick with burgundy undertones. It screams winter and an ideal red tone for winters.
Pure Scarleto is a red with pink undertones. Also, a red lipstick suitable for winters.
Pure Fire is a red with orange undertones. You can opt this shade during summer.
Pure Brick is red with brown undertones. Also, a summer shade. Check out the detailed review of Pure Brick here.
Staying Power :
All the 4 shades have pretty good staying power. They last for 4-5 hours without having oily food. Though some shades last more than the others. Pure Brick semi-survives meals while Pure Fire fails to do so. However, the tint lasts for a long period.
Pigmentation :
Pure Brick and Pure Garnet give an opaque finish in one swipe itself while Pure Scarleto gives off a decent color to your lips in a single swipe. Pure Fire is the sheerest among the four shades.
Shelf Life :
It has a shelf life of 36 months. Quite long, isn't it?
My PICKS :
My favorite among these shades is Pure Garnet. It came as quite a surprise for me. Next comes Pure Scarleto. My third pick is Pure Brick. And last comes Pure Fire.
In conclusion, L'oreal Star Collection attracts you on the first look itself. The beautiful shiny glossy finish black tubes!!