Hello Beauties, When you ask any women what they DON'T like about their lipstick, I'm pretty sure they would say-
It transfers!! Lipstick stains on cups and glasses. Yuck!
It's not food proof. You have a meal or a drink poof! It goes.
So, what if I tell you a brand promises to be absolutely PROOF of any complaint you have. Ladies, I introduce to you the much raved about LASplash Lip Couture.
EVERYTHING YOU NEED TO KNOW
MRP: Rs. 1390 (Available in both Nykaa and Amazon).
Content: 3 ml.
PROS :
It comes in a transparent plastic tube with a golden screw on top cap. So, it's easy to identify the shade.
It is available in 17 shades. 

And the best part? Each shade is super unique and different from each other. Can you believe it? 

You have neutrals, nude, pink, coral, orange, red, burgundy, pale brown, bright purple, pale purple, blue purple (who thought of such a shade?), almost black and solid black. Crazy right?
Till Midnight is a bright warm orange shade with red undertones.

I ? this shade!!
I don't know but I have a feeling that this shade brightens up my complexion.
And it has a straight sponge tip applicator that is helpful to apply precisely at the bow of your lips.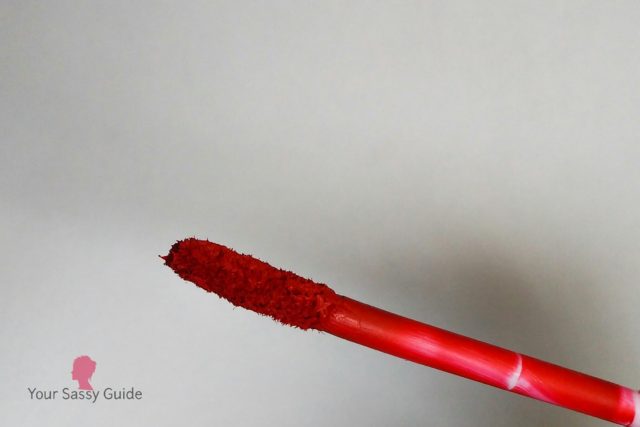 Furthermore, it is highly pigmented and has an opaque finish. One swipe of this lip cream will make the shade show up beautifully.
This lip cream has a matte finish.
Also, it doesn't bleed.
True to its claim, it is waterproof.
Smudgeproof. It doesn't smudge even if I rub my lips.
It dries up fast!!
Most importantly, it is transfer-proof. It doesn't transfer to your cups or anything.
Also, it has a long staying power. It lasts for 10+ hours on me.
It is food proof. Have juices, coffee or even have a full meal. It survives it all.
Shelf life : 2 years.
CONS :
It comes in a plastic tube with golden screw on top. I'm not impressed with the packaging ?. I mean you spend almost 1. 4k on a lip cream, you would expect it to look the part right? So, the first look at the lip cream doesn't make you want to grab it.
It has a straight sponge applicator that takes too much of product than you need.
Furthermore, it has a dry texture. Honestly, I am not a huge fan of LaSplash formula.
LaSplash Couture dries out my lips.
Things take a U-turn if you apply more than 2 coats. My lips become super dry and stiffen. I mean which lip cream does that?
Also, it crumbles like crazy if you have too oily food. So, you'll be left with your lip cream cracked off the middle and rest sticking as usual. Not a flattering look at all!
I had mentioned that it is fast drying. Well, it comes to bite you in the derriere ( Hey, I have become a super fan of Robert Thier' Silence series?. Amazing books!). Why? Because it is so hard to get the cream off if you mess up even a little during application.
Lastly, it is very very difficult to remove it. I used olive oil, lakme bi-phased makeup remover. Nothing phases the LaSplash Lip Couture.
Rating : 2.5/5.
SMUDGE-TEST :
So far, I have never had any difficulty in removing makeup with Lakme Bi-phased makeup remover but this product? See for yourself.
1. After 1 swipe of cotton pad drenched in Lakme makeup remover.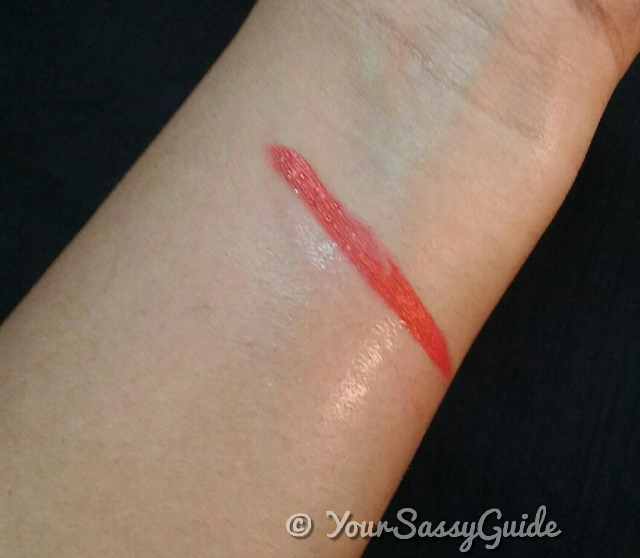 2.After 3-4 swipes.
3. After 6-7 swipes. My hand had actually become quite red.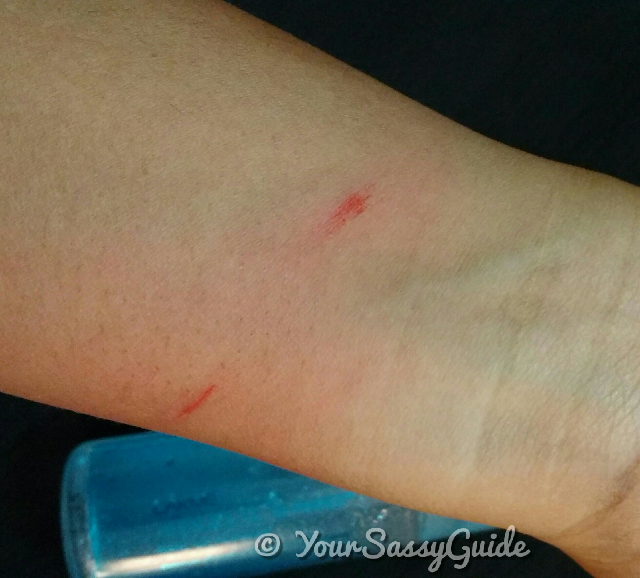 SUGGESTIONS :
Use this lip cream only after applying lip balm.
Even then use this product only when absolutely necessary.
Beginners please avoid this product. Even if you mess up a little, it is extremely hard to remove it.
This shade is more for fair to wheatish skinned beauties. Dark skinned beauties stay away! It'll look over the top on you.
MY PERSONAL EXPERIENCE
I was all up for praises the first time I applied this product. Real trouble started when I started to remove it. It simply refused to go. I had to use a LOT of makeup remover and olive oil to get it off. It peeled off some skin off my lips too. That is the only and last time I had applied this lip cream. I really wanted to do a LOTD for you guys. But the thought of removing this product scares me. Sorry guys.
Will I recommend/repurchase this product? Never. Though it is just doing its job. It has tons of downsides. So, I would rather stop complaining about lipsticks transferring, not waterproof etc. than buy this product. It is really hard to remove.