Hello peeps! I have heard so much about this Lakme 9 to 5 Primer + Matte Lip Color that I had to give up my self-imposed rule of not to buy a lippie for a month (at least). So, I had got it in the shade Rosy Mind. Let's check out how well it fulfills its claims.
Lakme 9 to 5 Primer + Matte Lip Color Claims:
Lakme 9 to 5 Primer + Matte is the first lip color with a built-in primer for a long-lasting, matte finish. The Built-in primer makes the color stay comfortably for 12 long hours. It also has a smooth application ensures an intense color payoff. Moreover, you don't need touch-ups for not 8 but 12 hours. The Key Primer Ingredient ensures that the lipstick gives a smooth finish and feels extremely comfortable on your lips.
EVERYTHING YOU NEED TO KNOW
MRP: Rs. 480 (Available online at Flipkart, Jabong, Amazon and Nykaa).
Content: 3.6 gm.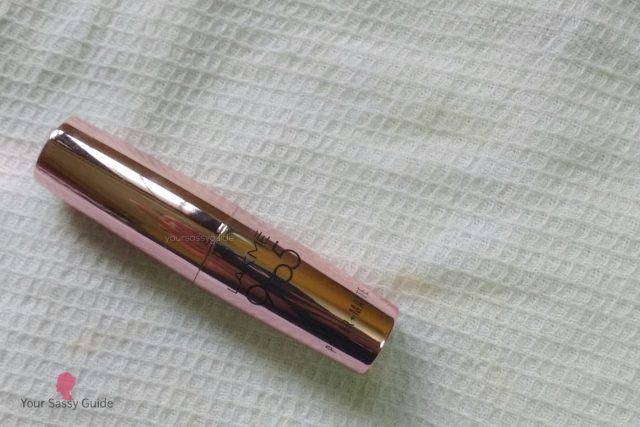 PROS :
The packaging is pretty impressive. Primer Lipstick comes in a rose gold metal tube with the shade name written at the bottom of the tube.
This lipstick range packs 35 shades from a range of reds, pinks, corals, browns etc.
Despite being a matte lipstick, it doesn't tug as long as you have properly exfoliated and moisturized your lips.
Rosy Mind is such a workable shade. It's such a perfect mix of pink with coral and red that it comes out as a peachy pink shade.
The pigmentation is really good too. One swipe delivers pretty decent color and the color delivery is quite rich with two swipes.
It has a normal staying power, lasting about 4-5 hours with lip balm and 5-6 hours without it. It semi-survives meals but reapplication of the lipstick is needed nonetheless.
It'll suit fair to medium skin tones.
Also, it doesn't transfer much.
Moreover, it leaves behind a good stain.
The tube is quite sturdy and hence travel friendly.
The price is reasonable.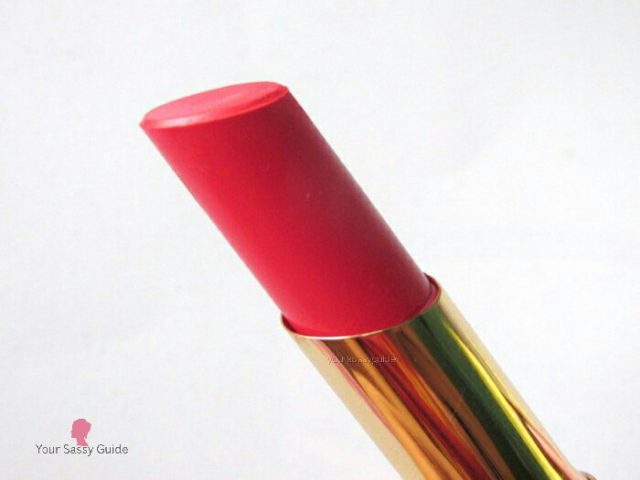 CONS :
This lipstick range is an absolute no-no without proper exfoliation.
If you fail to exfoliate, it will end up highlighting every dry patch on your lips.
Not only that it will start tugging too.
Its texture is quite waxy.
I have dry lips and I simply cannot use this Primer lipstick without moisturizing first. So, I find it a little drying.
I don't think the primer is much effective in prolonging the longevity of the lipstick. The staying power is not that impressive.
Maybe this is my fault. But I really expected it to have super smooth texture. I mean that's what a lip primer is supposed to do right? I didn't find anything of that sort from this lipstick.
Beauties with dusky or dark complexion will do well without this shade.
It is better to stop with 2 swipes of this lipstick. Go overboard and you'll end up with streaky lip color on your lips.
Rating : 3.5/5.
SUGGESTIONS :
Always exfoliate before applying this lipstick.
Never skip the lip balm.
MY PERSONAL EXPERIENCE
I had very high hopes with this lipstick. I mean, primer and lipstick in one package? Cool idea, isn't it? Moreover with fellow bloggers and vloggers raving about this, I just had to try it. But sadly, it didn't fare well with me. It was in no way better than the 9-5 range lippies. In fact, I lean towards 9-5 more than primer + matte lipstick range. But this shade Rosy Mind is soo good and warm. It will be perfect for the summers!
Do I recommend it? Not really. Sorry Lakme. You failed to impress me with this.