Hello Peeps!! I am back with another review. This time a compact powder. You can skip concealer, blush or even foundation from your makeup routine but you just can't skip this beauty. Compact is simple and light. It not only gives a semi-matte to matte finish (depending on your foundation) to your look but also sets your makeup and makes it last longer. It is especially crucial if you have oily skin.  Lakme Perfect Radiance Intense Whitening Compact will be a perfect addition to your vanity. Not only is it budget friendly, it also delivers. Lets check it up, shall we?
EVERYTHING YOU NEED TO KNOW
MRP: Rs. 210 (buy it at great discounts from Jabong, Amazon and Nykaa).
Content: 8 g.
Trust Lakme to find a product to suit every skin tone. Just like their mousse range, Lakme has 6 shades in their Perfect Radiance Compact range.
01 Ivory Fair
02 Rose Fair
03 Golden medium
04 Rose Medium
05 Beige Honey
06 Rose Honey
The shade I'm going to review today is 03 Golden Medium (I have wheatish skin tone).
PROS :
The product comes in a white case with Lakme logo in gold in the centre. Looks elegant and classy.
The sponge given is pretty decent for application. I prefer a powder brush as it is good to blend in the product well.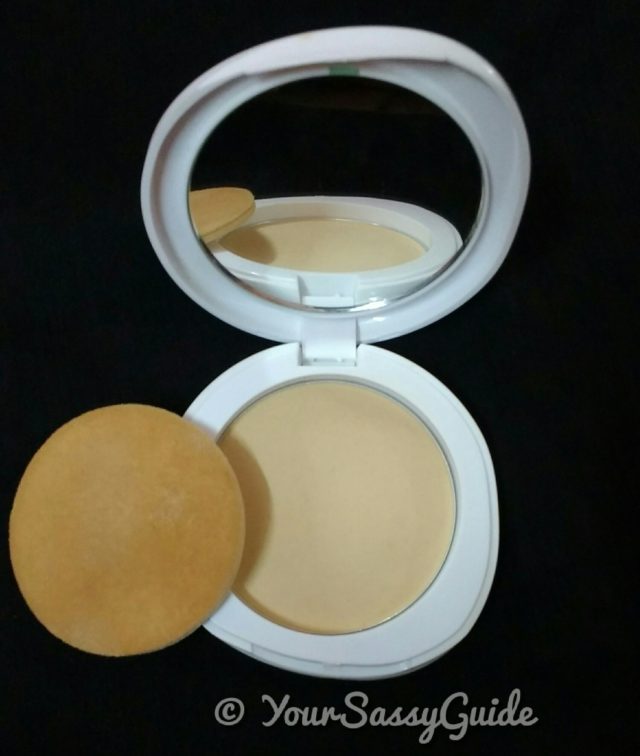 This Perfect Radiance compact comes with a mirror which is nice and sturdy.
It is a light product. It doesn't clog my pores.
And it blends into my skin really well.
Perfect  Radiance compact gives a matte finish.
In addition, it makes my face visibly much lighter (though temporarily).
Also, it lasts on my face for 4-5 hours in a cooler weather or in an A/C room. But of course, it's a different story when you are sweating. It lasts for 1-2 hours after which you need to touch up.
It definitely makes my makeup last longer.
The packaging is sturdy. It is travel friendly. I carry it with me everywhere ?.
It has a SPF 23. Bye-bye sunscreen (I'm kidding, never go out without sunscreen!!). But if you are goin to be out for 20-30 minutes with this product on, you can skip the sunscreen.
Affordable. It is a great compact at this price.
This is perfect for everyday use.
CONS :
It doesn't give a pearly glow or anything (Hey! But I'm not complaining). It more than does it's job at this price.
Also, it doesn't offer much coverage. It gives sheer coverage.
Rating : 4.2/5.
SUGGESTIONS :
Dampen your powder brush and take the compact powder and blend into your skin well.
It'll make your makeup last longer. And no it doesn't spoil your compact. But never dampen the sponge given with it. It makes the sponge really rough (did that with my first compact?).
MY PERSONAL EXPERIENCE
I have to say Lakme managed to make a very decent product with this compact. This is my second compact and I haven't felt the need to go looking for another. Not only is it cheap (online price starts at Rs.150 itself), it also delivers what it claims(mostly). And I use it daily. I just put on my moisturiser after cleansing my face and then apply this powder. I'm all set.
So yes, I definitely recommend this product. It is a great option for everyday use.