Red lipsticks and women are like two sides of the same coin. One cannot exist without the other. They compliment each other so beautifully. Red Rebel from the Lakme 9-5 Matte Lip Color range is a beautiful shade of red with orange undertones, perfect for women with warm skin tone.
EVERYTHING YOU NEED TO KNOW
MRP : Rs 450 (Available at  Amazon, Flipkart, Nykaa).
Content : 3.6 gram.
PROS:
Lakme 9-5 lipsticks come in a golden pinkish metallic tube with the product name written on top in white lettering.The packaging looks classy.
There are 27 shades available in this range so basically you have so much of choices.
It has good pigmentation. It delivers good color in a single swipe.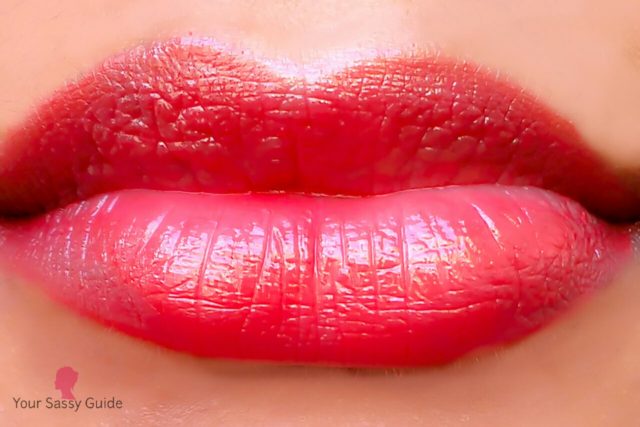 Perfect matte finish.
It is so light on your lips that you forget you're wearing any product on your lips. I didn't feel the slightly heavy feeling of wearing lipstick at all.
Furthermore, it does not look cakey on your lips.
It  has a smooth texture that it glides on your lips pretty smoothly.
It is not shimmery (I'm not a huge fan of shimmery lipsticks).
With the right shade of lip liner, it makes your lips look fuller.
It is travel friendly. The cap and the container are quite sturdy.
It will look great on people with wheatish or medium skin tone.
When it fades, it leaves a natural tint on your lips without being patchy.
Affordable (you can get this lipsticks online for just rupees 350 ).
Lakme 9-5 lipstick has a shelf life of 24 months.
CONS:
It dries out your lips. So, it's a must to moisturizer your lips before application.
The lipstick stays on for 2-3 hours only. Obviously the 9-5 claim is quite far-fetched. It semi survives meals. Reapplication is needed.
Rating: 4.4/5
SUGGESTIONS:
Go easy on the eye makeup while wearing red lipsticks. It distracts the viewer from your beautiful lips and at times gives an impression of "too much makeup".
Be careful while choosing the right shade of red. If you have a warm skin tone, go for red shades with warm undertones like coral or orange. If you have a cool skin tone, go for bright red with pinkish undertones and bloody red shade too will look excellent on you.
MY PERSONAL EXPERIENCE
I had bought this product a year and a half ago when the matte lipsticks were kind of new in the market. I had instantly fell in love with it. Seriously, I was more of a gloss girl until then. I am not a huge fan of sticky, oily feeling of lipsticks but then after this lipstick it is safe to say I DID get what the big deal about lipsticks is!!