Lakme Enrich Crayon has created quite a stir in the market. With its low price and ease of use, it has been a great temptation. But is it really worth all the hype it received? Let's check it out!
EVERYTHING YOU NEED TO KNOW
MRP: Rs. 185 (Available at Flipkart, Amazon, Jabong and Nykaa).
Content:  2.2 gm.
PROS :
Lakme Enrich Crayons come in a crayon like pencil with the paper around it containing all the product information like product name, shade name, shelf life etc.
The paper around the crayon is color-coded. So, it is super easy to ID the shade.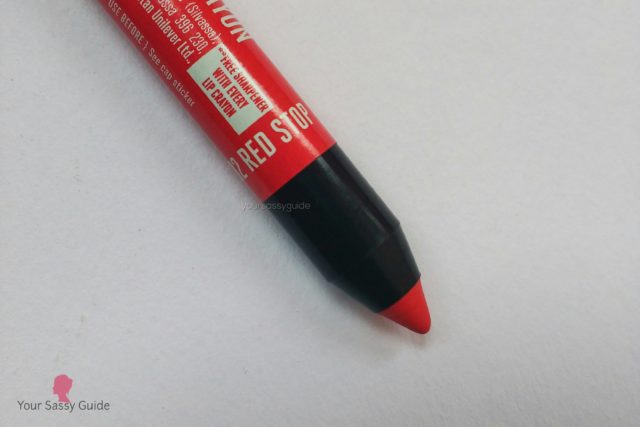 Red Stop is a red shade with slight orange undertones. It looks more red than orangey on my lips.
It gives medium to full coverage to the lips.
So beauties with pigmented lips, you are free to pick up this range.
Lakme Enrich Crayon stays on for 5+ hours on me easily without having any food and snacks.
It fades leaving a natural tint on your lips.
It does not bleed from the lips.
I use it to line my lips, like a lip liner.
You can apply lipstick precisely even with no experience of any sort. It is just like using a crayon to color a picture.
Lakme Enrich Crayons are super affordable. Isn't it their top selling point?
It is an amazing product for beginners. It is really easy to use.
Travel friendly.
Shelf life of 24 months.
It comes with a free dual sharpener. So, Lakme finally heard my complaint that they should give complimentary sharpener with their products that need sharpening. This sharpener is great to use with my Lakme Liner too.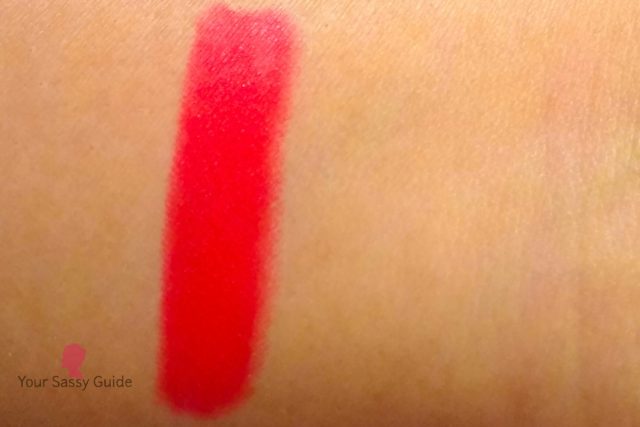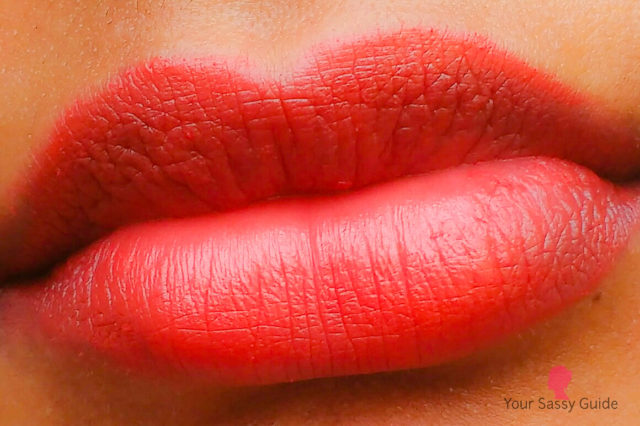 CONS :
The texture is quite waxy. So, it looks kind of patchy.
Lakme Enrich Crayon is not food proof. It fades even with light meals.
Furthermore, it is not smudgeproof. It smudges every time you accidentally rub it.
Also, it transfers like crazy. Be ready to have it on your spoons, glasses etc.
It settles into fine lines. Now that is not a pretty sight, is it?
And this particular shade dries out my lips. This revelation was a disappointment for me because I thought it'll be enriching in sync with its name.
It needs frequent sharpening. So there is a lot of product wastage.
Rating : 3.7/5.
SUGGESTIONS :
Red Stop will look great on fair to medium skin tones. It is a no-no for dusky beauties.
And it is necessary to exfoliate your lips before applying this crayon to prevent it from settling into your fine lines.
Don't forget to moisturize your lips before applying this lip crayon.
MY PERSONAL EXPERIENCE
After hearing tons of positive stuff about the Lakme Enrich Crayons, I was super curious on how it'll turn out. And when I got online to grab these crayons, I could only find Red Stop and Berry Red. And you guys know how I am. I just said okay maybe there is a reason I got only two shades to sample this range. And I'm glad I didn't waste my money on more shades. Because it's an okay product but not a great one. So, why buy more?
Would I recommend it? Nope, not unless you are an absolute beginner. If so, then it'll be a great way to apply lipstick until you learn to properly apply it. If not, there are better options out there if you spend a couple of bucks extra.