I love wearing eyeliner. And I certainly love sporting simple lined up eyes to dramatic winged up eyes. But what I absolutely dislike is using liquid eyeliner as it demands too much of my patience and precision that I can't always offer. So, it wasn't any surprise I got super excited on finding Lakme Absolute Precision Liquid Liner. Let's check it out.
EVERYTHING YOU NEED TO KNOW
MRP: Rs.475 (buy it at great discounts from Jabong, Amazon and Nykaa).
Content: 1.2 ml.
PROS :
It comes in a black tube with silver lettering. Though it is not super flattering, it is easy to hold so I don't have much to complain.
Precision Liquid Liner has a sketch pen-like tip that makes it super easy to create any look you want.
It's a great product for beginners as it is mistake proof.
You can easily create any look you want from simple lineup to winged-up look with ease.
Also, you can create thick as well as thin lines depending on how you hold it.
In addition, it is highly pigmented. A single swipe delivers jet black color.
It feels soft on my lids.
Precision Liquid Liner has never tugged on my lids. It glides on smoothly.
Furthermore it gives a satin finish and not a dried up finish like some liquid eyeliner.
It has a good staying power if you manage to be free of sweat. It stays for 6-8 hours in a cool climate or in an air-conditioned room.
I didn't need any makeup remover to remove it, a mild soap or facewash did the trick. It is easy to remove.
Shelf life : 36 months. But the liner gets over in a few months ?.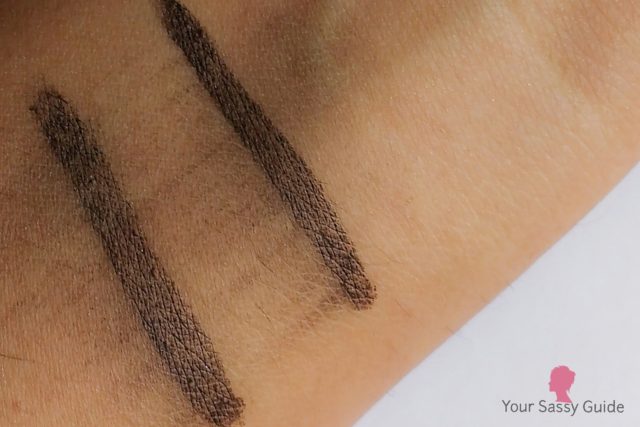 CONS :
It is not smudgeproof.
Precision Liquid Liner fails on its claim of being waterproof. So yes, it is definitely not sweat-proof.
It might be a little difficult to use for oily skinned beauties.
I feel it is a bit costly for just 1.2 ml of product. The fact that it is not waterproof doesn't help either.
Rating : 3.9/5.
SUGGESTIONS :
Oil skinned beauties, dab some compact powder on your eyelids before applying this liner.
Steer clear of this product if you are going to sweat a lot or have water splashed on.
Don't forget that you have on Precision Liquid Liner on your eyes and RUB your eyes. Never.
MY PERSONAL EXPERIENCE
This eyeliner is god sent for me. I used to struggle with liquid liners. No matter how many times I practice, I ended up messing it up. Though, the price seems to be too high for the given quantity, you can buy it for Rs.309 only on Nykaa. It's on discount now. Make full use of it.
Do I recommend it? Yes, it's a great product for beginners. Though I would be smart to buy it only on sale!