We all love to do makeup right? It's fun. But one thing I absolutely hate ( and I am pretty sure you agree with me) is removing it ?. Yet, makeup removal is such an important step of makeup routine that you simply cannot skip it. Yes, your makeup routine doesn't end with applying it, it ends with removing it and allowing your skin to breathe. Bi-phased makeup removers makes it easy to remove any kind of makeup.
Lakme Absolute Bi-phased Makeup Remover is a water and oil based ( yes, you heard it right) makeup remover that is ideal to remove any makeup off your face.
EVERYTHING YOU NEED TO KNOW
MRP: Rs.250  (buy it at great discounts from Jabong, Amazon and Nykaa).
Content: 60 ml.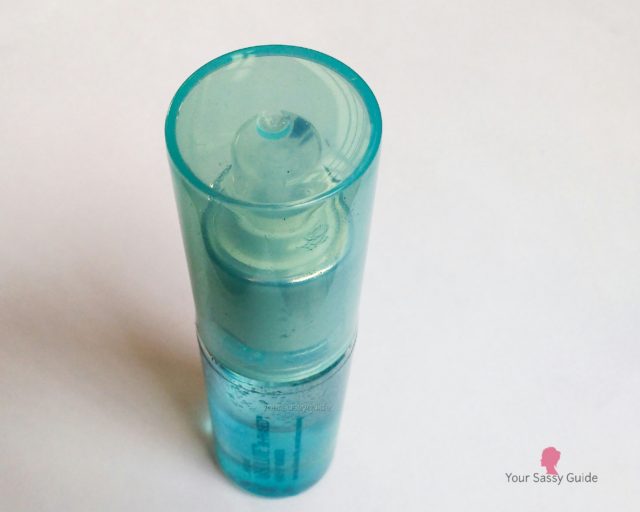 PROS :
The packaging looks so classy. A transparent glass bottle with spray top. The bottle label color is transparent at top and changes shade to a nice blueish color. I totally dig this packaging.
It is Bi-phased, so every time you use it, you have to shake the bottle ( I just shake it to watch the bubbles that come when the oil and water formula mingle with each other. It looks really pretty through the blue glass ?).
A decent amount of product is needed to remove primer+ concealer+ foundation combo thoroughly than it takes just foundation+powder (2 swipes with the cotton pad is enough here).
Till date, I have used this remover to remove any kind of makeup –face, eye, lip, with a minimum of 2 swipes (the second swipe for removing any traces of left over makeup) and a maximum of 4 swipes.
It leaves my face soft and smooth after removing the makeup.
Being a oil-based remover, you would expect it to make your face oily, right? Well, it doesn't. Atleast it doesn't work on me like that. But if you have oily skin, I would advice you to watch out or do a product test before buying.
The product is of good quality. It has never let me down.
Affordable.
It has a shelf life of 24 months.
CONS :
Sometimes, it leaves the skin a little oily.
Rating : 4.7/5.
SUGGESTIONS :
Don't forget to shake the bottle before use since all the oil would have settled down and you would just be spraying water based remover which wouldn't be that effective to remove some makeup.
Pat the area around your eyes gently. Do not rub it while removing the makeup. I know it needs extra patience and time but you don't want to end up getting wrinkles around your eyes early.
Treat your skin as if you are removing dirt off your most precious diamond. Gently remove the makeup.
MY PERSONAL EXPERIENCE
This is a good option to remove all kinds of makeup. And it works for me well. I just use a large cotton pad to remove makeup on my whole face and repeat the process just to make sure the entire product is off my face. It always leaves my skin super soft that I just can't help touching it again and again.
On the whole, it's a non-fussy makeup remover that I definitely recommend.