Hayloow beauties! I'm super excited to be introducing this amazing product I stumbled upon and can't wait to share it with you guys?. Yes, I indeed am full of praises for this Kama Ayurveda Pure Rose Water.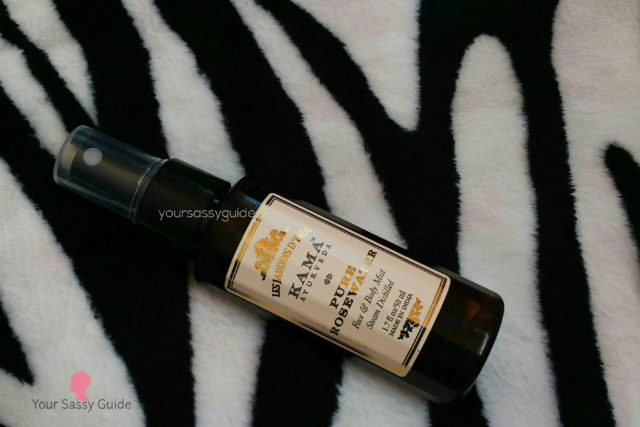 KAMA Ayurveda Pure Rose Water Claims:
Made from the roses of Kannauj which is considered special with the same specifications as the Bulgarian rose.
Steam water distillation process ensures a high level of hygiene and unmatched purity.
Helps remove the residue of makeup.
Tones the skin and helps tighten pores.
Rose water, a natural astringent balances and restores skin's PH level.
Non-alcoholic.
EVERYTHING YOU NEED TO KNOW
MRP: Rs. 250 / 950 (Available online at Amazon and Nykaa).
Content: 50ml / 200ml.
PROS :
The packaging of Kama Ayurveda Pure Rose Water consists of a see-through brown plastic bottle with a spray nozzle on top. Though boring, it is really convenient and compact.
The best part about the packaging would probably be the spray nozzle that perfectly sprays up fine mist onto your face.
It is transparent in color and has a runny consistency (obviously :P).
Kama Ayurveda Rose Water has an AMAZING smell like the purest roses. But it's not overwhelming. Rather it is really subtle.
It is so refreshing and makes even a dull face look super fresh.
It gives off a subtle glow to the face.
Rose water is also a good non-alcoholic toner.
Also, it is suitable for all skin types. And is best suited for dry skin.But I am unsure about the sensitive skin types.
It is free of chemicals and is 100% natural.
For a 50 ml bottle, it sure lasts a long time. Thanks to the spray nozzle that sprays even a small quantity of rose water evenly throughout the face.
It is convenient to take with you during travel. Just 2 pumps will instantly freshen up your dull skin like nothing else.
A bit expensive but honestly? I feel it's completely worth it.
Shelf Life: 2 years.
CONS :
It doesn't minimize pores that much.
Rating : 4.8/5.
SUGGESTIONS :
Hold the bottle 10 cm away from the face and and press the top.
Kama Ayurveda Pure Rose Water can be used to refresh your face in midst of the day when you really don't have enough time for a touch up (or plain lazy like me). Just spray it anywhere, anytime and you're good to go.
It can also be used after waxing or shaving to soothe your skin.
Spray it on wet cotton pad and keep it on your eyes.
MY PERSONAL EXPERIENCE
I am having a great time with this product and it created a great first impression about Kama Ayurveda. The spray bottle is truly convenient. Simply go for it, you'll not regret its purchase.
Recommended.