Inglot eyeshadow came as a surprise to me. I'm usually not a fan of buying individual eyeshadows and prefer to get a palette. But this one really changed my perception.
Inglot Eyeshadow claims to contain special silicone and treated pigments. It boasts high lubricity and a silky touch combined with easy, smooth, long-lasting, and crease resistant application.
EVERYTHING YOU NEED TO KNOW
MRP: Rs. 650  (it's available at good discounts on Nykaa and Amazon).
Content:  3.2 g/0.11 US OZ
#39 is a purple eyeshadow with slight pink undertones.
PROS :
I love the packaging. A small round plastic body in black with a transparent lid. Cute and classy covers it perfectly.
This shine range has 65 different shades (no kidding!).
Inglot eyeshadow has a buttery soft texture. Being a shimmery eyeshadow I expected it to be chunky but no, not an ounce of chunkiness.
The shade is so gorgeous.
It serves multiple purposes for me. When I apply it with brush and skip the primer, I can easily carry it off during daytime as it imparts a subtle pink shade. But for evenings and parties I use my fingers and make sure to include primer in my makeup routine to bring out the true color. The result is a beautiful purple shade with pink undertones.
Additionally, it is highly pigmented.
And has a long staying power. It stayed up to 4-5 hours on my lids without primer. With my Colorbar primer, it stayed for 7+ hours.
This shade will look good on all skin tones.
However, #39 shade will look flattering on women with fair to wheatish skin tones and brown eyes.
It is travel friendly.
Furthermore, it feels light on the lids.
It is very easy to apply and blend this eye shadow.
The Inglot Freedom System allows you to mix and match products and colors to make your own custom designed palette.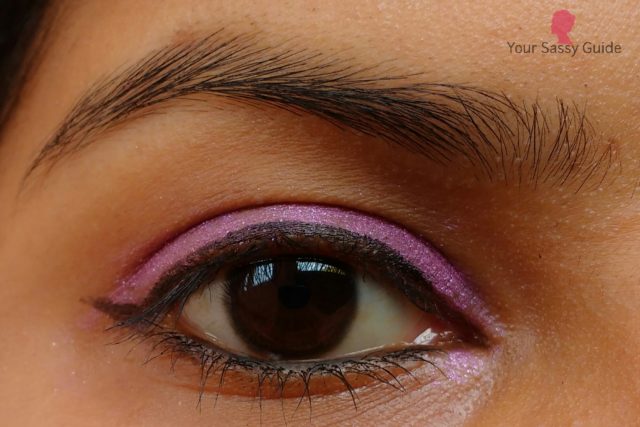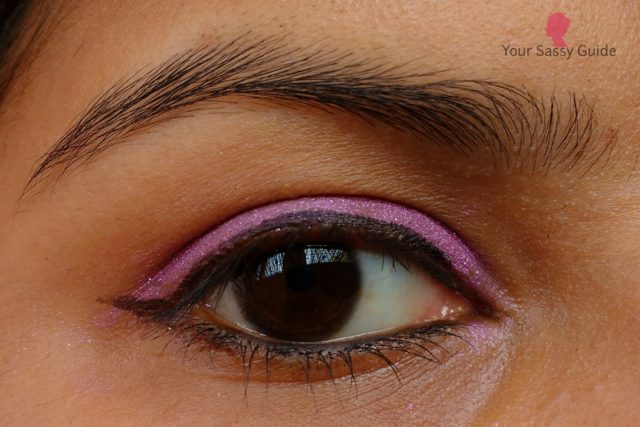 CONS :
Availability is an issue with Inglot eye shadow.
It is expensive.
Rating : 4.9/5.
SUGGESTIONS :
I suggest using your finger to pick up the product and dot it over your eyes than using a brush.
The pigmentation you get when you apply with your fingers will be much more than when you use  a brush.
MY PERSONAL EXPERIENCE
After trying this eye shadow, I really want to try on more Inglot products. Though it is more expensive than other eye shadow, the quality makes you overlook the fact. It is so smooth to apply and it blends like a dream even with all the shimmer it has.
Would I recommend it? Absolutely. It is really good and you guys are going to love it when you do try it.
Since availability is a big issue with AMC Shine range, you can try Square Shine Eye shadow. It is available in Nykaa, Amazon, Jabong and Flipkart.