Buying a foundation for the first time can be scary. Especially since there are numerous options out there from stick, mousse, liquid, mineral foundations etc. So, which one should you pick? Which is right for your skin type? What coverage do they give?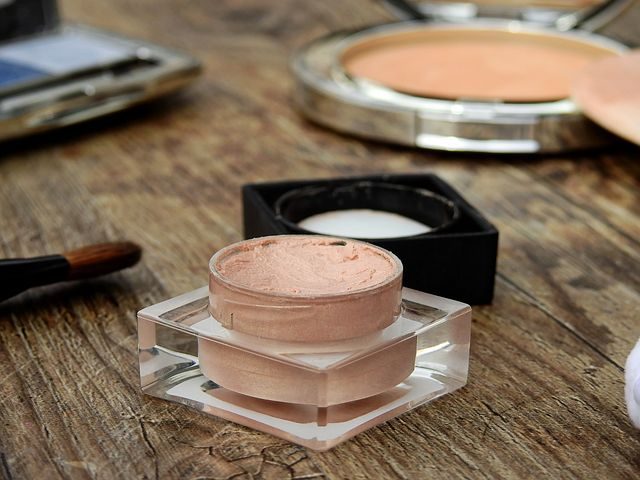 TYPES of FOUNDATION
Tinted Moisturizer:
It is moisturizer and foundation combined into one cream.
Suitable for Dry to Normal Skin types.
Offers the sheerest coverage of all foundations.
Evens out skin tone and moisturizes skin but does not cover up blemishes, dark spots etc.
Best used for casual wear.
Mousse/ Whipped Foundation:
It's a foundation with a little air whipped into it.
This makes the foundation lighter and makes it glide smoothly on skin.
Also, it does not settle into fine lines or wrinkles, making mousse a perfect foundation for mature skin.
Acne prone skin types can also use this provided you make sure it has water in its ingredients list.
Its lightweight formula will help keep your pores clear.
And this offers medium coverage.
Liquid Foundation:
I think the Mother of All Foundation does not need any intro. Been around for a long time and still stealing hearts.
Probably because it blends so well or is it because its gives the perfect 'natural look'? Or maybe because it's so pliable that you can mix up different shades and come up with your perfect shade.
There are both oil-based and water-based formulas.
Oily or acne prone skin types should stick with matte finish or water-based formulas.
Dry skin types should stick with oil-based options.
Liquid foundation offers full coverage.
Airbrush/ Spray Foundation:
The Latest Talk of the Town. Yep, no more brushes and blending guys! It's just spray season.
Here, you just spray on your foundation instead of applying using hand or brush.
And the results? Quite stunning if you ask me. It offers the most natural coverage. Flip Side? You got it right! Very Expensive.
Also, it takes credit for giving great coverage, flawless skin.
Being lightweight, it is best for acne prone skin. But all skin types can use this as it offers not only a lot of options like oil-based, water-based, silicon-based etc. but also plethora of finishes like matte, dewy, shiny finish etc.
Cream Foundation:
Obviously, it has a creamy texture and is full of waxes and fillers to make it stick to the skin.
Suitable for dry and mature skin types in general. But if it is water-based (check for aqua or water in the Ingredients list), normal skin types can use it.
Also, it offers heaviest coverage among all foundations.
Stick Foundation:
A foundation in the form of a solid stick. It feels heavy and kind of thick on the skin.
But on a positive note, it is non-messy and portable.
And it tends to make the skin dry, making it perfect for thick, oily skin types.
Sticks offer medium coverage.
Cream to Powder Foundation:
This one starts off as a cream and gradually settles into a powder finish.
So, you get the best of both worlds. The creamy part makes it easy to blend and you also get a semi-matte to matte finish.
Best for normal to slightly dry skin (gives off a matte finish) and slightly oily skin (for a dewy finish).
It offers medium to full coverage.
Powder Foundation:
Just like compact/ pressed powder, it is easy to blend and controls oil and helps manage the shine.
Sadly, they tend to dry out the skin. So, best for extremely oily skin. Others can use them for touch-ups only.
It offers medium coverage.
Mineral Foundation:
Mineral Foundations are newcomers to the makeup market.
They contain inert minerals such as iron oxide, titanium dioxide, mica etc.
Most importantly, they are (and should be) free of parabens, fragrances, talc, silicone etc.
Best for sensitive skin.
A QUICK LOOK on FINISHES
A lot of us (including myself like a year back) are confused as to what different finishes mean. Words like Radiant, Luminous aren't really helping!
Matte Finish:
If you notice your face is smooth without any shine like the light itself does not reflect back on your face, then this finish is called matte finish.
Natural Finish:
If your face looks normal like neither too shiny nor completely matte, then it is said to be natural finish.
Dewy Finish:
Lets say you have blemish free skin and want to look youthful, then say hello to dewy finish. This finish aims to make you look young by adding in freckles and making your skin look well moisturized.
Satin Finish:
A soft, smooth and a lil' shine sums up satin finish.
Radiant Finish:
With radiant finish, your face will glow and have shine to it.
Luminous Finish:
This finish aims to add light catching brightness to your face as if you are lit from inside.
So, yep. That's it. Phew! it took me days to give a short, detailed version of everything and make sure I don't leave anything. Also, I want to add that there's no hard and fast rules to makeup. If I (or any other makeup geek) say something is suitable for oily skin, it does not mean normal or dry skin tones can never carry it off. They too can carry it off if they moisturize their skin well and use an appropriate primer. The same goes for oily skin types.