Hey Beauties!! How was your Diwali? I had a green Diwali with no cracker. Had loads of fun calling out to friends and family, eating home made sweets…okay I'm blabbering. Thing is whether you go green or not, there will always be someone who takes pleasure in bursting crackers adding to the already rampant pollution making your beautiful, soft and hydrated skin to lose its moisture and become very dry and rough. Seeing as you need a quick fix to retain your skin's moisture, let's check out Olive Face Mask from The Face Shop.

EVERYTHING YOU NEED TO KNOW
MRP : Rs.100 (buy it at good discounts from Jabong, Amazon and Nykaa)
Content : 20 gm.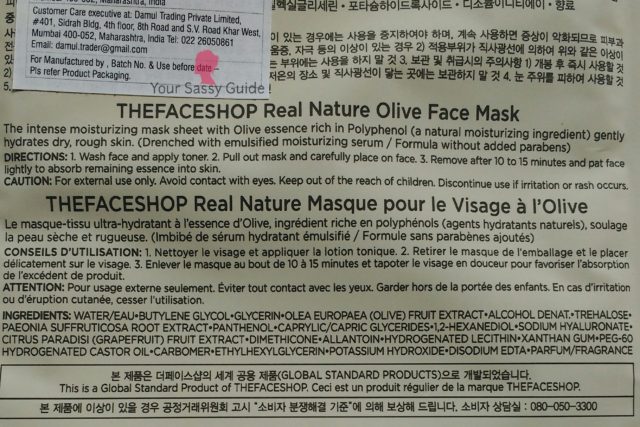 PROS :
The packaging looks really real classy. It is a thick plastic pack with all the product details written on the pack itself.
It has instructions and ingredients given in English, French and Korean.
The serum has a liquid consistency and was very easy to apply and blend.
In addition, there was enough product left to be applied on the neck are and hands.
Olive Face Mask smelled really nice better than the rest of its peers.
Furthermore, it evened out my skin and made it smooth.
True to its claim, it did hydrate and moisturize my skin very well.
My dull and rough face turned up smooth and hydrated in 20 minutes.
It is so relaxing. I feel asleep with it on! I know, my bad.
Most importantly, it is a real time saver.
Paraben-free.
Dermatologist tested.
Affordable.
Shelf life : 36 months.
CONS :
I couldn't find fault with this mask sheet but still I wouldn't recommend it for sensitive skin types as it has alcohol.
Rating : 4.3/5.
SUGGESTIONS :
After washing the face, apply toner all over your face. I used home-made toner prepared using 4 parts water and 1 part apple cider vinegar.
Unfold the mask sheet carefully. Avoid product from being spilled.
Spread it over your face, adjusting from eyes to nose. Don't worry if it doesn't fit your face, just adjust it to cover maximum part of your face.
You can apply the left over serum on to your neck and hands.
I took the mask off after 14-15 minutes after all the serum is absorbed by the skin.
You can be sure of that when your mask starts drying.
MY PERSONAL EXPERIENCE
I actually like this mask a lot. It is very hydrating and smells pleasant. But again it did not minimize pores much or brighten the face (a bit but not much). Neither does it claim to do so.
So, yeah. Definitely recommended.