We all like to take care of our skin, to pamper it, nourish it and drain out the signs of stress accumulated over the week. But alas! We hardly get the time. Face masks especially Korean face masks are a great solution to our skin problems. They are super easy to put on and remove. Best part? It can be done at home, saving both time and money. Lotus face mask from The Face Shop, a Korean based skin care company, claims to moisturize and hydrate our skin at the comfort of our home.
EVERYTHING YOU NEED TO KNOW
MRP : Rs.100 (buy it at good discounts from Jabong, Amazon and Nykaa)
Content : 20 gm.
So, what's a mask sheet?
A mask sheet is a face shaped fabric sheet drenched in a nutrition packed serum.
It can be used only once.
The Face Shop mask sheet is made of soft cotton material (like the cleaning cloth you get with your specs).
PROS :
The packaging looks really real classy. It is a thick plastic pack with a smooth wooden finish. All the product details are written on the pack itself.
It has instructions and ingredients given in English, French and Korean.
The serum was a little thick yet easy to apply and blend. It looked like rice starch water you get after draining the boiled rice.
Lotus Face Mask smelled nice. Not like lotus but a mild fragrance that was pleasant nonetheless
Furthermore, it evened out my skin and made it super smooth.
True to its claim, it did hydrate and moisturize my skin quite well.
Lotus Face Mask freshened up my face. My face was kind of dull and rough that week from lack of sleep. But after this mask it literally looked radiant.
And yeah, my face did look a little brighter after the mask.
Surprisingly, it did minimize the pore size a little.
It is so relaxing. God! I felt super sleepy when I had it on
Most importantly, it is an amazing facial option for all super busy woman who don't have time to visit a salon.
Dermatologist tested.
Affordable.
Shelf life : 36 months.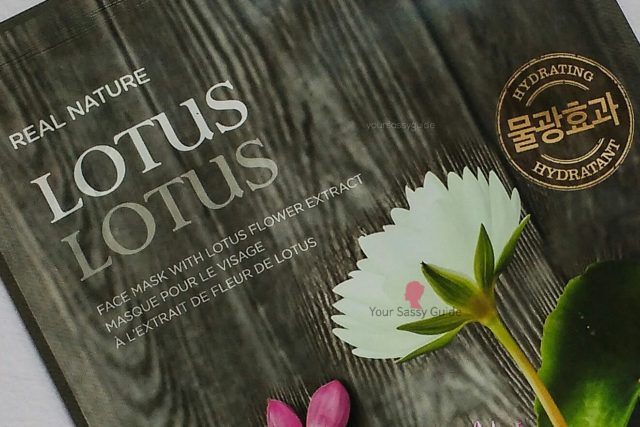 CONS:
The only downside I felt is a little burning sensation when I had the mask on. Maybe because of the alcohol present in it. So, not recommended for sensitive skin types.
Rating : 4.4/5.
Suggestions :
After washing the face, apply toner all over your face. I used home-made toner prepared using 4 parts water and 1 part apple cider vinegar.
Unfold the mask sheet carefully. Avoid product from being spilled.
Spread it over your face, adjusting from eyes to nose. Don't worry if it doesn't fit your face, just adjust it to cover most of your face.
You can apply the left over serum on to your neck and hands.
I took the mask off after 14-15 minutes after all the serum is absorbed by the skin.
You can be sure of that when your mask starts drying.
MY PERSONAL EXPERIENCE
Lotus mask quite literally made me fall for it. It did everything it claims and more. The only problem I faced is that it'll not be the right mask for very dry skin types or sensitive skin types because of the alcohol present in the product. So ladies, this is a mask to give you that photo filter look in real life.
Recommended? Definitely.