So you are real busy and suddenly you remember the party you got to attend today. No time for parlor and the unforgiving sun has given you dullness, wrinkles. What to do? ??Thank God if you have invested in The Face Shop Real Nature Pomegranate Grenade Mask Sheet. Mask sheets are a great way to have a mini relaxing facial at home in just 15 minutes. Wouldn't you feel great if you get those mask sheet from a trusted  South-Korea based skin care line like Face Shop? I had already reviewed Calendula face mask and Lily face mask. So, now we will be checking out the Pomegranate Face Mask sheet.
EVERYTHING YOU NEED TO KNOW
MRP : Rs.100 (buy it at good discounts from Jabong, Amazon and Nykaa)
Content : 20 gm.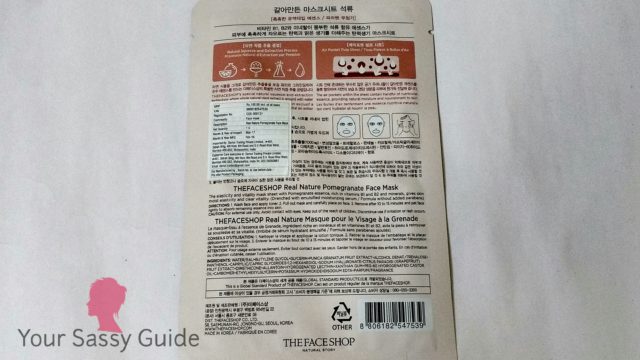 So, what's a mask sheet?
A mask sheet is a face shaped fabric sheet drenched in a nutrition packed serum.
It can be used only once.
The Face Shop mask is made of soft cotton material ( like the cleaning cloth you get with your specs).
PROS :
The packaging looks really good. It is subtle and classy.
The packaging is travel friendly. And it is compact and tough.
Also, it has instructions and ingredients given in English, French and Korean.
Furthermore, it has natural extracts.
Pomegranate Grenade has the right consistency for a serum.
It made my skin firm.
Pomegranate Grenade Mask did not smell like pomegranate. It just smelled like some perfume. And it was milder compared to Lily Lis.
Also, it freshened up my face. My face was kind of dull after continuous exposure to sun that week.
In addition, it shrunk the pores to give an even appearance to the face.
It is an amazing facial option for lazy girls like me or super busy woman who don't have time to visit a salon.
Pomegranate Grenade made my skin soft and supple.
It is relaxing that it'll make you feel sleepy after putting it on.
The serum quantity given is very decent. I was able to cover even my hands and neck with it.
Dermatologically tested.
Affordable.
Shelf life : 36 months.
CONS:
It did not brighten my skin even temporarily.
It has alcohol.
Rating : 4.2/5.
Suggestions on how to use?
After washing face, apply toner all over your face. I used home-made toner prepared using 2 parts water and 1 part apple cider vinegar.
Unfold the mask sheet carefully. Avoid product from being spilled.
Spread it over your face, adjusting from eyes to nose. Don't worry if it doesn't fit your face, just adjust it to cover maximum part of your face.
You can apply the left over serum on to your neck and hands.
I took the mask off after 14-15 minutes after mask became dry.
MY PERSONAL EXPERIENCE
Pomegranate Grenade mask sheet is really good for firming the face. It made my dull face fresh after application. Note that I said fresh but not bright. It didn't brighten my face like the other mask sheets. But if you have pores that are quite prominent, then this is the right mask for you.
Would I recommend it? Yes, at just 100 bucks and at times at great discounts this is a steal.