Hiya guys! I just got engaged!! ?? Sorry for the late updates once again. Now the whole wedding shopping and planning has started and it's crazy. So, let's dive into today's review on The Goji Berry Face Mask from The Face Shop.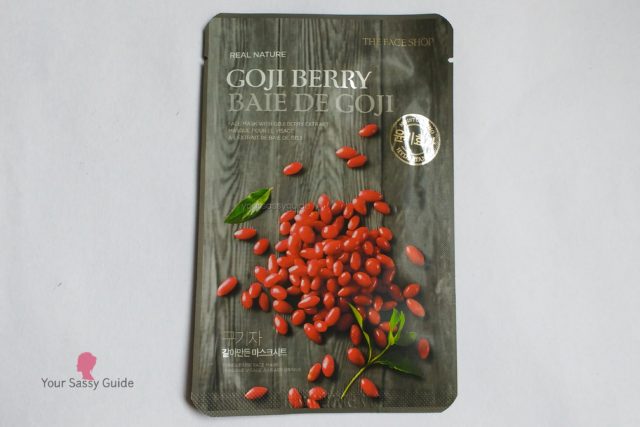 EVERYTHING YOU NEED TO KNOW
MRP : Rs.100 (buy it at good discounts from Jabong, Amazon and Nykaa)
Content : 20 gm.

PROS :
The Goji Berry Face Mask comes in a thick plastic pack with all the product details on the back. The packaging has a wooden finish to it and looks cool and classy.
The mask is made of cotton of good quality and it feels baby soft on the skin.
The serum was whitish, like starch, in color.
Even though the serum had a thick consistency, it was very easy to apply and blend.
In addition, there was enough product left to be applied on the neck and hands.
Goji Berry Face Mask had a very fresh and pleasant fragrance.
It evened out my skin and made it soft and smooth.
It did tighten my skin a little.
Goji Berry Face Mask hydrated and moisturized my tired face really well true to its claim.
It is soo relaxing.
Most importantly, it saves both time and money.
Paraben-free.
Dermatologist tested.
Shelf life : 36 months.
CONS :
It contains alcohol.
It did nothing to my pores. And there was none of that brightening effect (though temporary) that I have come to expect from these masks (not that this mask claims that but still?).
Rating : 4.1/5.
SUGGESTIONS :
After washing the face, apply toner all over your face. I used home-made toner prepared using 4 parts water and 1 part apple cider vinegar.
Unfold the mask sheet carefully.
Spread it over your face, adjusting from eyes to nose. Don't worry if it doesn't fit your face, just adjust it to cover maximum part of your face.
You can apply the left over serum on to your neck and hands.
I took the mask off after 25 minutes after the mask became dry.
MY PERSONAL EXPERIENCE
I gave this mask a try because I'm in this obsession phase where I'm trying different masks from the Face Shop. Goji Berry Face Mask turned outtooube really moisturizing.
Recommended only if you don't mind the presence of alcohol.