Hiya my beauties, How have you been? Hope this weekend was good. It was really good for me. Had a mini relaxing facial with the Face Shop mask sheet. A massive discount is going on Nykaa.com and I took advantage of it. Buy any 5 mask sheets and get 5 free. Amazing, right? Especially on a trusted  South-Korea based skincare line like Face Shop which provides fabulous goodies for our beauty rituals.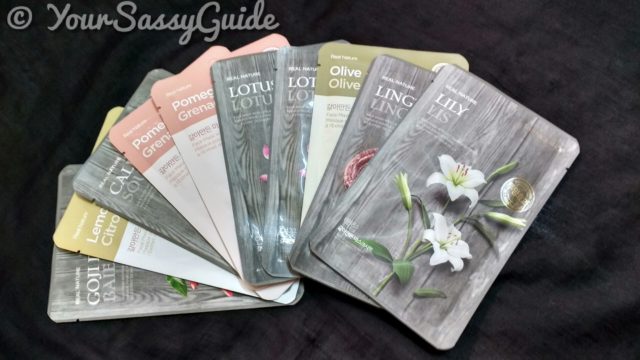 I had got 10 sheets of 8 different extracts. I got 2 pomegranate and lotus each (heard really nice things about them). And I'll reviewing them all in the coming weeks. Planning to use one during each weekend and I'll share my experience after trying them on. The one I am reviewing today is Calendula Souci.
EVERYTHING YOU NEED TO KNOW
MRP : Rs.100  (buy it at great discounts from Jabong, Amazon and Nykaa).
Content : 20 gm.
So, what's a mask sheet?
A mask sheet is a face shaped fabric sheet drenched in a nutrition packed serum.
It can be used only once.
The Face Shop mask is made up of soft cotton material ( like the cleaning cloth you get with your specs).
PROS :
The packs in which the mask are contained looks really good. It is slim, stylish (am I really describing a packet like that?), soft and super classy. It has instructions and ingredients given in English, French and Korean.
Also, it smells amazing???. Such a mild, nice, flowery fragrance that you'll instantly fall in love with.
It contains natural extracts.
Furthermore, it evened out my skin

, it's as if a photo filter was added to smoothen your face.

Yep! it made my skin super soft and supple.
Also, it moisturized

 

my skin.

It 

visibly tightened my pores.
It is an amazing facial option for lazy girls like me or super busy woman who don't have time to visit a salon.
Most importantly, it's been 2 days since I applied it and my skin is still soft.
It is relaxing.
Dermatologically tested.
Affordable.
CONS:
Rating : 4.4/5.
Suggestions:
After washing face, apply toner all over your face. I used home-made toner prepared using 2 parts water and 1 part apple cider vinegar.
Unfold the mask sheet carefully. Avoid product from being spilled.
Spread it over your face, adjusting from eyes to nose. Don't worry if it doesn't fit your face, just adjust it to cover maximum portion of your face.
You can apply the left over serum on to your neck and hands.
I took the mask off after 14-15 minutes, when I was completely sure that the product is being absorbed by my skin.
You can be sure of that when your mask starts drying.
MY PERSONAL EXPERIENCE
Do you know that feeling when you know that you have spent your money wisely. Well, that was my feeling after using this mask. It was not only very relaxing and soothing, it also delivered exactly what it claimed.
So ladies, this is a mask that I can absolutely swear by.