Dr. Reddy's products are held in high regard generally. Though I have never tried any product from this brand before, I had wanted to for a long time. But naturally, like any cream prescribed by a doctor I was afraid that Venusia cream might create side effects. Yes, Venusia cream is not only used as a moisturizer but prescribed as a skin protector from UV rays, for skin disorders, irritations, anti-aging, burns, inflammation etc. I got over my fear after numerous researches and here I am with my experience.
EVERYTHING YOU NEED TO KNOW
MRP: Rs. 273 (Available online at Nykaa,Flipkart, Amazon, Jabong).
Content: 75 gm.

PROS :
I'm a little impressed with the packaging. You'll see why looking at the pictures. Cool, isn't it? The container is visible partially and the whole gold and green combo is quite pleasing to the eye. The product itself is in a white container with a green cap.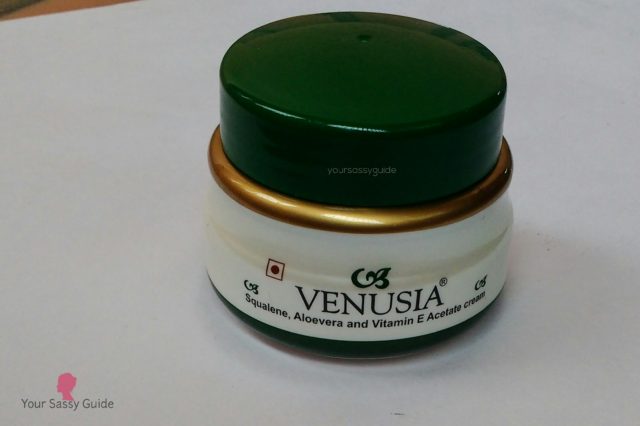 Personally, I love its smell. It is so fresh and pleasant.
It is a white, thick cream. Though it looks heavy and too thick in the bottle, it melts and gets absorbed by the skin easily once you massage it.
It is very very good at moisturizing even super dry skin.
Venusian cream is non greasy.
Most importantly, it did not break out my skin.
It keeps the skin moisturized for 7-8 hours.
I found it to be quite good at removing sun tan.
Venusia cream contains amazing ingredients like Squalene, Aloevera and Vitamin E. Why do I say they are amazing?
Well, Squalene, extracted from olive oil, is an antioxidant that prevents UV damage and age spots. Additionally, it promotes cell growth.
Aloevera nourishes the skin to keep it soft and supple and adds glow to it.
Vitamin E acts as an antioxidant and slow down the ageing process. So, basically it has an anti-aging effect.
Also, it is ideal for both men and women.
It can be used for face as well as body.
Moreover, it is suitable for all skin types. Just vary the quantity according to skin type.
It is easily available in almost all pharmacies and some shops selling beauty products. If you want to buy it online you can check out here-
Quite affordable. 273 bucks for 75 gm is not too bad especially for such a quality product.
The container is quite sturdy and travel friendly.
Shelf life: 24 months.
CONS :
Unfortunately, it contains parabens.
Rating : 4.4/5.
SUGGESTIONS :
Clean the area whether you are applying to your face or body well and pat it drying before applying this cream.
After applying, massage the area for the cream to seep into your skin.
I recommend using this product twice a day. After bath and before going to bed.
MY PERSONAL EXPERIENCE
Venusia Cream certainly finds multiple uses in my daily life. Not only does it acts as a great moisturizer and skin protector, when mixed with Aloe Veda Foot Cream it acts as a great foot cream that hydrates and softens the skin incredibly well. It does reduce tanning. But I cannot speak about the other said uses.
Would I recommend? Definitely. Give it a try. You'll not be disappointed.