Hello ladies! Long story short. Deyga is a relatively new, homegrown organic brand. They sent me some of their products for review . This post is not sponsored and my opinions expressed are 100% honest. Deyga Eyebrow Growth Oil is one of their best sellers according to their website. Let's check out how legit this product is.
Deyga Eyebrow Growth Oil Claims:
Deyga's eyebrow growth oil is designed for the brow-a-holic in you!
Rich in fatty nutrients and minerals which nourishes and moisturizes the hair follicles and makes your eyebrows looks healthier and thicker.
An abundant source of ricinoleic helps add volume.
EVERYTHING YOU NEED TO KNOW
MRP: Rs. 730 (Available online at Deyga).
Content: 30 ml
PROS :
Their packaging is neat and classy. The product came in a cylindrical cardboard container. Upon opening, I found a glass bottle with a dropper cap. It is helpful for applying the Eyebrow Growth Oil.
Firstly, I was quite surprised to see that the oil is lightweight and non-greasy while I was expecting something quite oily and heavy. In fact, it was lighter than the Deyga Beautifying Serum.
The smell had hints of Rosemary and Castor oil. It kind of reassured me that the product is 100% organic and has zero preservatives.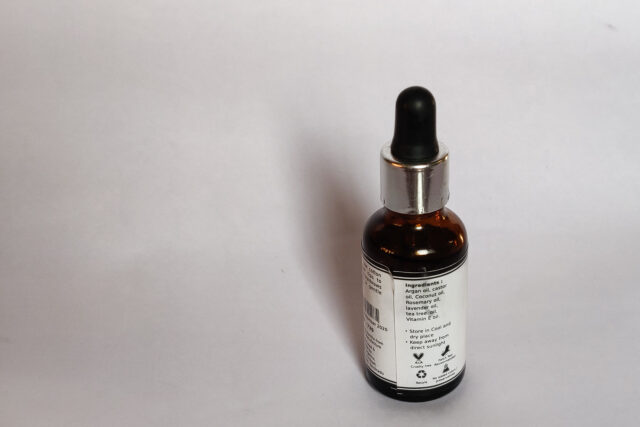 Suitable for all skin tones.
True to its claims, the Eyebrow Growth Oil made my eyebrows a little thicker over continuous use.
Though it is expensive like 730 bucks for 30 ml of Eyebrow Growth Oil, I just needed like 2-3 drops for every use. So, it kind of lasted for a long time for me.
Expiry Date: 8 months.
CONS :
Rating : 4.5/5.
SUGGESTIONS :
I use this oil for my eyelashes too! And it is surprising effective for getting thick eyelashes.
I just take a drop of this oil on my fingertip and apply it on the root of my lashes.
Wash and reuse the bottle people. It is really sustainable to reuse than recycle.
Surprisingly, that dropper is so useful to even apply hair oil on the scalp 😛
MY PERSONAL EXPERIENCE
Now this is no miracle oil that will give instant hair growth overnight. But it is one of those things which will slowly but surely give benefits. So, I definitely recommend this product.