Every girl hates summer!! The thought of rundown makeup brings a scowl upon your faces. I feel you! So, how to make your makeup last longer? My best advice? Use a good primer. But alas! Good Primers are so expensive. So, I have brought you my HG primer that balances quality and cost quite well. Colorbar Perfect Match Primer is a must have product if you are looking for an affordable primer.
Colorbar Perfect Match Primer Claims:
It claims to be the perfect base for make up and to hold the foundation in place for longer hours.
To magically reduce the redness on skin and help lighten the acne marks.
Gently blends into skin without adding extra shine or oiliness.
Promises not to clog pores, to control the sebum production and brilliantly smoothen out skin's texture and efficiently hide fine lines and open pores.
EVERYTHING YOU NEED TO KNOW
MRP: Rs. 825 (buy it at great discounts from Jabong, Amazon and Nykaa).
Content: 30 ml.
PROS :
Colorbar Perfect Match Primer comes in a sleek inverted white plastic tube with a nozzle and a silver screw-on cap. The packaging is a silver carton with black lettering. Nothing fancy but definitely classy.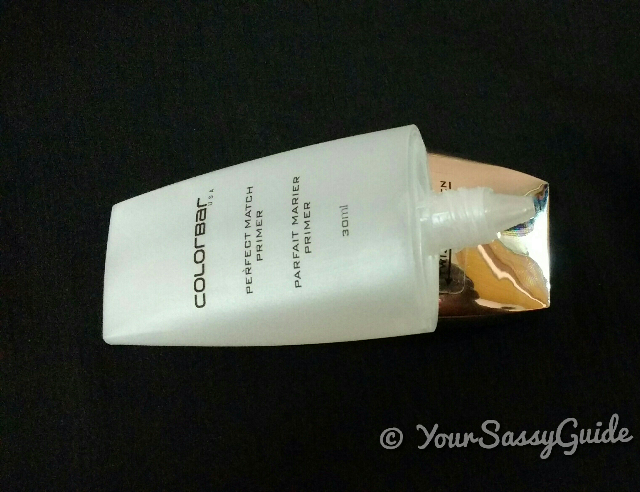 Colorbar Perfect primer has a gel like consistency.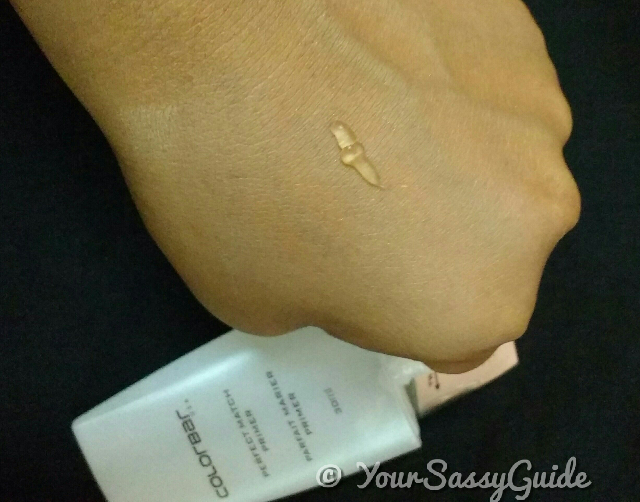 Also, it has a velvety texture.
Consequently, it is very easy to blend.
A little quantity is enough to cover the face.
Furthermore, it blends into my skin well and evens it out really well.
It makes my skin soft and smooth.
True to its claim, it hides fine lines and open pores quite well.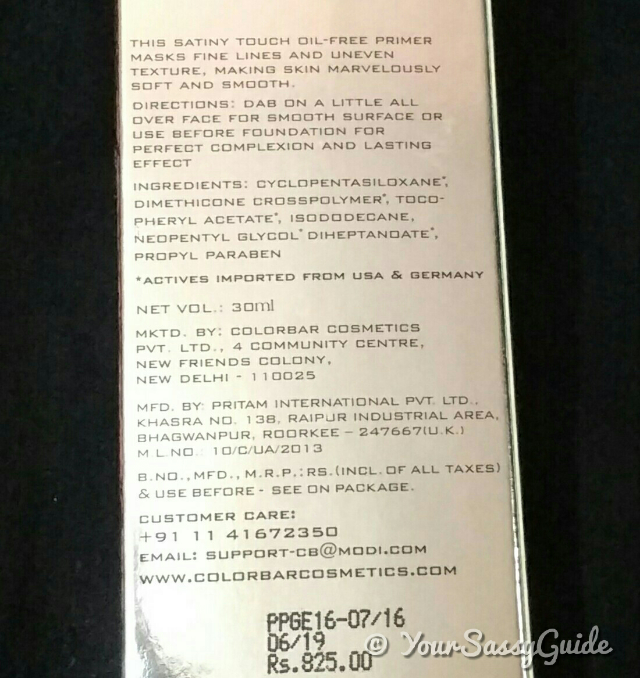 Most noteworthy, it minimizes my pores and any small bumps (like pimples) on the skin.
Also, it lightens acne marks a little.
Colorbar Perfect is an oil-free primer.
It controls the oil production to an extent. Definitely a god sent for oily skinned women.
Colorbar Perfect Primer proves to be a perfect base for make up.
It holds the foundation in place for longer hours. Without primer, my makeup holds for 4-5 hours. But with this primer on, it holds for 10-12 hours with mild touch-up.
The plastic tube is sturdy and the cap shuts firmly. It is travel friendly.
It is affordable. I can hear you guys asking me, 825 bucks is affordable to you? My beauties, the starting price of a primer is 550 bucks. So yeah, a decent primer such as this at Rs.825 is quite a steal if you ask me.
It is suitable for all skin types maybe except the sensitive skin types since it contains parabens and silicones.
Shelf life : 3 years.
CONS :
It's ingredients list puts me down a little. It has cyclopentasiloxane, dimethicone crosspolymer, tocopheryl acetate, isododecane, neopentyl glycol diheptanoate, propyl paraben. Yep, you are right. It contains parabens and silicones.
Not recommended for sensitive skin types. Be sure to do a patch test before buying this product.
Rating : 4.7/5.
SUGGESTIONS :
Wait for 2-3 minutes after applying Colorbar Perfect Primer before applying foundation.
Oily skinned beauties, never skip foundation if you want your makeup to last longer than 4 hours.
Apply this foundation using the tips of your fingers in circular motion throughout your face.
MY PERSONAL EXPERIENCE
I heart this primer. It is excellent in fulfilling it's claims. I generally avoid using primer as a part of my makeup routine maybe except during weddings or parties. My skin works fine without it. But there are times when my skin has a mood of its own and decides to be super uneven and has bumps all over because of open pores. There comes my saviour – Colorbar Perfect Primer.
So yes, I definitely recommend this product. It works great. An affordable primer which actually fulfills it's claims.