Women are more likely to have cracked heels than men. All that times your were standing in the kitchen, hypothyroidism, or just dry skin lead to cracked heels. You can know more about Cracked heels in this post. Cracked heels are ugly. True. But they are also very common. So, it's disheartening to know that heel repair creams are costly.  I have tried so many brands that claim to be "THE SOLUTION" to cracked heels and they are not exactly cheap. But yet they were not really effective. So, I'm always on the lookout for good heel repair products at a reasonable price. And that's how I found Aloe Veda Kokum Feet and Heel repair cream.
Aloe Veda Kokum Feet and Heel repair cream claims to be a hydrating foot repair treatment made with kokum butter, aloe vera, allantoin, clove oil, peppermint and beeswax and specially formulated to soften and protect dry feet and repair and renew cracked and chapped heels.
Aloe Veda is a customer-focussed luxury wellness and beauty brand from South India and the Official Skin Care Partner for Femina Miss India pageant. It is inspired by Ayurveda and Aloe Vera.
EVERYTHING YOU NEED TO KNOW
MRP : Rs. 275 (available on Flipkart and Amazon only).
Content : 100 gram.
PROS :
The packaging is very unique. It basically has two layers like a small white container inside a transparent container. The black lettering on smoked white container looks good. All the product information is written on the container itself.
Aloe Veda foot cream is really effective on cracked heels. Furthermore, it heals even badly cracked completely within 2-3 weeks.
It has a light sandal color.
Also, it has a thick, creamy consistency.
Most of all, it moisturises the heel really well. Thanks to all the k

okum butter and clove oil in it.

In addition, it gives a mini luxury aromatherapy feel.

A small measure is enough for each use (of course, measure depends on how bad the heels have cracked).

It has aqua, sunflower oil, glycerine, kokum butter, emulsifying wax, beeswax, cetyl alcohol, clove oil, lemongrass oil, fragrance, neem seed oil, dimethicone, imidazolidinyl urea, potassium sorbate, benzyl alcohol, sodium benzoate, disodium edta.
Also, it suits all skin types.

It is paraben free.

And, it is not tested on animals.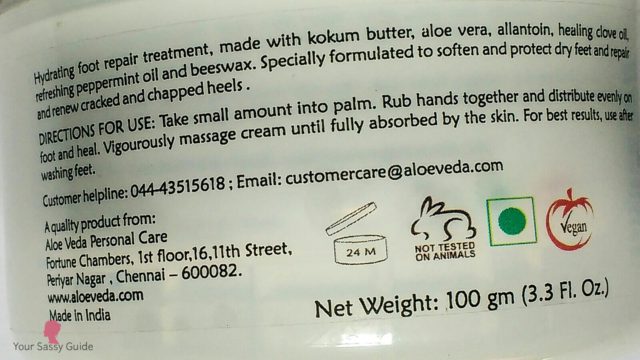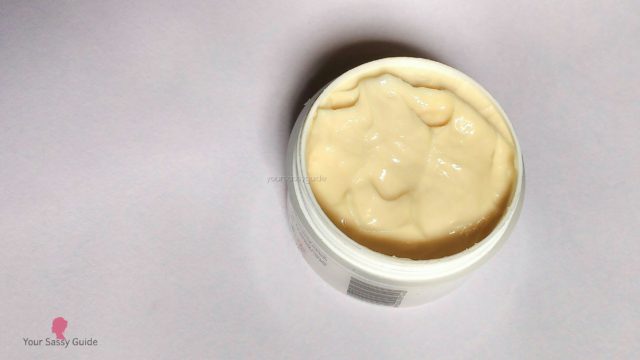 Travel friendly. The content does not leak out of the container.
It has a mild fragrance that I really couldn't put my fingers on. But it's not bad.
Visible difference can be seen in the heels within a week.
It is great not only for cracked heels but also for making rough heels soft and moisturised.
CONS :
Honestly, nothing. It is so far the cheapest foot cream I have ever tried.
Rating : 4.8/5
SUGGESTIONS :
For best results, use after washing feet and scrubbing it a little to remove dead cells.

Take small amount into palm and r

ub hands together and distribute evenly on foot and heel.

Vigorously massage cream until fully absorbed by the skin.

You can apply it before sleep.
MY PERSONAL EXPERIENCE
After body herbals, I pretty much wanted to buy it again. But then, the price really put me off. After all its just a foot cream. So, I again began to look for a good product at a much reasonable price and came across this Aloe Veda foot cream. When I looked it up in Amazon, hardly 5 people had bought it. But then I thought why not give it a try and took a little step out of my comfort zone. So far, it gave good results and I am happy with this cream.
Will I recommend this product? Yes, it's a great product. Do give it a try.