So, are you an absolute beginner to the makeup world? Then there's a high chance that you are confused as to what is what. And the complex definitions that come up when you Google is simply not goin to cut it! Primer, blush, concealer, lipstick, lipgloss, lip tint, eye makeup (OMG! That is whole another level), foundation etc. What are they and where to start first? Don't worry. YSG gives a simple, quick run through all of them including the order to be followed.
1. CLEANSING:
Remember the first step in makeup is always cleansing.
Always clean your face and neck area before applying makeup. After all, a clean canvas is necessary for a great painting.
YSG TIP:
We recommend using a face wash than soap to wash your face. Trust me your face will look softer and smoother with a face wash than a soap.
2. TONER:
A toner is like a bridge between step 1 and step 3.
It removes leftover dirt from your face andd hydrates your skin. Now what did I say about a bridge?
I can quite literally hear you guys saying, Oh! Come On. Is it super important to tone your face? Hmm, I'll leave you guys to make your decision from this article. It covers A-Z on toners. Thus, will help you to make your choice.
3. MOISTURIZING:
It is absolutely important to moisturize your skin before proceeding to makeup because moisturizing hydrates and nourishes our skin.
Yes, even the oily skinned beauties should stick to this step. Just make sure you pick up the right moisturizer for your skin type.
4. PRIMER:
Primer is a base for makeup. It evens out your skin, smoothens all the bumps, rough spots etc.
Also, it is necessary to make your makeup last longer. Let's say your makeup lasts for 4-5 hours (most products fall into this category), with primer you can make it last up to 7-8 hours or more.
There are clear primer and tinted primers in the market. I recommend using non-tinted primers.
There are various types of primers for different skin types. Be sure to check if a product is for your skin type.
YSG TIP:
Use your fingertips to apply primer on your face. It is the best way to blend the primer into your skin.
5.FOUNDATION:
Foundation is a skin colored product applied to the face to create a smooth and even complexion. 

to cover flaws like dark spots, acne marks etc.

Sometimes, it is also used to change the natural skin tone. Always choose a foundation the same shade as your skin tone or a shade lighter but don't go overboard. You'll end up looking ashy.

A foundation can give you light, medium or full coverage.
A foundation is a sea on its own. Especially now that we have a plethora of choices. You can always refer this post to get a better idea.
6.CONCEALER:
A concealer is at times called as color corrector.
It conceals/ hides dark circles, small blemishes, acne marks, age spots etc.
YSG TIP:
There's is always this confusion whether to use concealer first followed by foundation or apply foundation first then go for the concealer. I'll always recommend using the foundation first and then proceed to use concealer. Reason being, your foundation will cover half of the marks you want to conceal and you can proceed with the other half with your concealer.
5.EYE MAKEUP:
Okay, now that we are done with base makeup, we move on to eye makeup.
There's a plethora of choices. You can stop with a basic kajal/ eyeliner or you can do more using eyeshadow.
As a beginner, I suggest you experiment  with neutral shades before moving on to create much bolder looks. You can try this easy look.
You can start with a single eyeshadow applied on your lid or you can combine 2-3 shades and experiment.
5.BLUSH: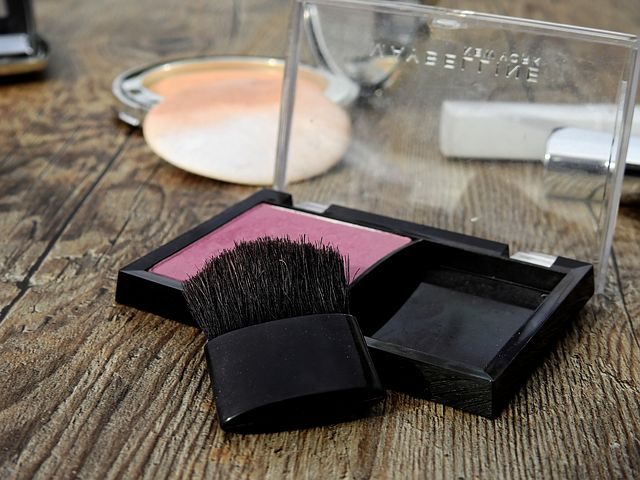 Blush adds color to your cheeks to create a fresh, youthful appearance.
The Deal Breaker. Too much, you'll look like somebody had slapped you. Too little, you'll look pale, plain and boring. So, apply wisely.
Warm skin tones i.e your veins are greenish should go for coral shades.
Cool skin tones i.e your veins are bluish should opt for pink shades.
As with everything about makeup this is just the general rule but don't be afraid to go out and try something different too! It might actually work in your favor provided it compliments your makeup.
6. POWDER:
A powder helps set your makeup in place and to make it last longer.
It can be applied before blush if the blush has a powdery texture.
But it should be applied after blush if the blush is creamy.
Powder is a must product if you have oily skin.
7. LIPSTICK:
*Squeal* My favorite product. You'll be having one for sure too even if you are a beginner.
Between lip gloss, lip cream, matte lipstick, organic lipstick, glossy lipstick, lip balms, lip tint etc. you are sure to be confused.
If you are an absolute beginner lip tint (tints and hydrates lips) and lip balms are your BFF for casual wear.
But lets say you are going for a party or some function, lip balm isn't going to cut it. Opt for lip gloss (easy to apply) or glossy lipstick.
Matte lipsticks need a tad more pro touch according to me. You need to properly exfoliate and prep your lips for it to look amazing. Otherwise, it'll dry up your lips and crack up.
8.  Makeup Brush:
This is one question that is sure to plague every beginner.
I can tell you this, invest in a nice set of makeup brushes. You'll never regret your decision. But please don't go for 24 brush set, 12, 13 brush set.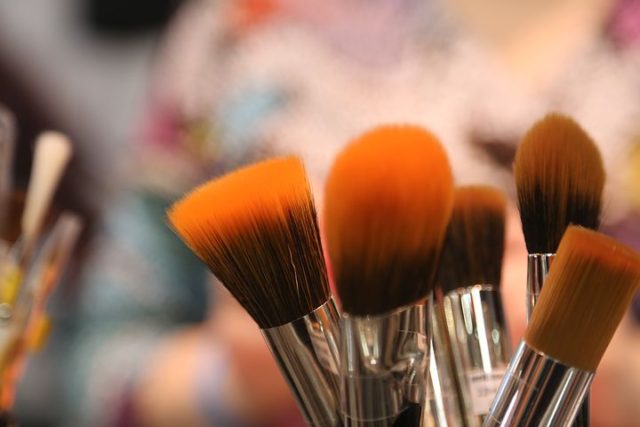 Just a foundation brush, powder brush, blush brush and a set of eye makeup brushes comprising a small blending brush, flat brush and a dome shaped brush should be enough. A Brow brush is a good buy too.
ALTERNATIVES for CASUAL WEAR
With new products flocking the market daily, it is easier and quicker to get a good makeup finish within minutes.
Yep, in addition to lip balms and lip tints substituting lipsticks, you can now opt for BB Creams and CC Creams in the place of foundation.
BB Cream:
It combines 5 steps in One go! Now, hydrating, priming, concealing, foundation and protecting skin can be done with just your BB Cream.
Protecting skin? Yass Peeps! It has SPF too.
Lightweight.
Suitable for dry skin.
An awesome find for lazy girls like me.
CC Cream:
Though similar to BB Cream, it goes a step further and color corrects dark spots, discoloration and uneven skin tone.
Some might even contain anti-aging properties like smoothen the fine lines and wrinkles.
Suitable for oily skin .